Hassan Nasrallah, the leader of Iran-backed Hezbollah militant group, on Sunday accused Saudi Arabia of dictating Lebanese Prime Minister Saad al-Hariri's resignation, which threatens to throw the Middle East nation into chaos.
"It is clear that the resignation was a Saudi decision that was imposed on Prime Minister Hariri. It was not his intention, not his wish and not his decision," Nasrallah said in a televised speech.
Read more: Hezbollah's new 'power' threatens Israel
Hezbollah's leader urged Lebanese citizens to refrain from protesting in a bid to stave off escalating tensions.
"Do not listen to alarmist speeches," Nasrallah said. "We will react responsibly and calmly … we are concerned about the security [of Lebanon]."
In a stunning move on Saturday, Hariri announced his resignation in a televised statement from Saudi Arabia, citing an assassination plot targeting him.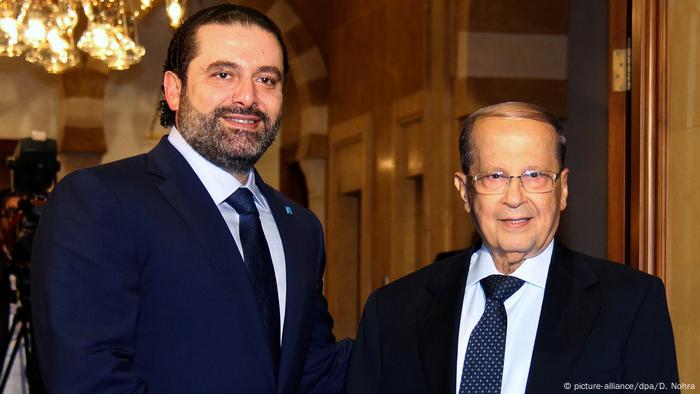 Saad Hariri and Lebanon's President Michel Aoun
Bitter sectarian divisions
During his resignation, Hairi accused Iran and its Lebanese-based proxy Hezbollah of taking over Lebanon and destabilizing the region.
Hezbollah is a minority member of the government, but its military arsenal far outstrips that of Lebanon's own armed forces.
Lebanon has been deeply divided for years between factions controlled by the Shiite Tehran-backed Hezbollah and a Saudi-supported movement led by Hariri.
The country's political divisions led to the assassination of Hariri's father Rafik in 2005. He was an immensely influential tycoon who built his fortune in Saudi Arabia.
It is widely believed that Hezbollah, backed by Syrian President Bashar al-Assad, carried out the assassination.
Hariri's death was followed by a series of assassinations against Hezbollah opponents. That resulted in a month-long war between Hezbollah and Israel, and a series of other violent clashes that echoed the brutal civil war that consumed Lebanon from 1975-1990.
ls,bik/jlw (AFP, Reuters)