Beirut accused the United Nations Refugee Agency (UNHCR) of intimidating refugees and on Friday froze all resident visa applications for its workers. Lebanon's foreign minister, Gibran Bassil, said the world body has been asking Syrian refugees about compulsory military service, security conditions and whether they have a place to live in Syria, a line of questioning he said discourages Syrians from returning home.
'UNHCR Intimidation'
Bassil has taken a hard line on Syrian refugees and is the only leading politician directly attacking the UN. "We sent a mission that verified that the UNHCR is intimidating the displaced who wish to return voluntarily," he tweeted on Thursday.
Read more: Syrians in Lebanon: 'They treat us like we are dirty'
A UNHCR spokesman denied Bassil's claims. William Spindler told reporters that, "conditions in Syria are not yet conducive for an assisted return, although the situation is changing and we are following closely."
About 1.5 million refugees from Syria live in neighboring Lebanon, a country of six million people. Anti-Syrian sentiment increased after groups calling for their return home made huge gains in last month's Lebanese elections.
Read more: War in Syria putting Lebanon's refugee community under strain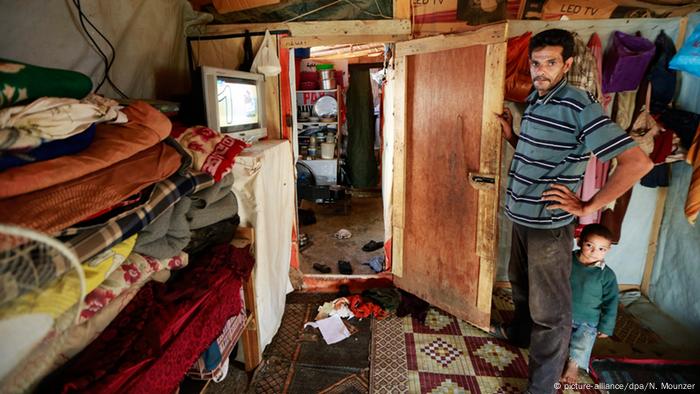 Syrian refugee Mohamed Rached in his tent at Faydha refugee camp east of Lebanon
Lebanon has been home to Palestinian refugees since 1948, however the country's electricity and waste removal infrastructure has become strained by the influx of Syrian refugees. Some international NGOs, however, say their presence has helped stimulate the economy.
Syria's ongoing conflict has resulted in the deaths of more than 350,000 people and displaced millions since 2011. The Syrian government led by Bashar Assad has retaken more than half the country since Russia intervened at its request in 2015.
Lebanon's infrastructure was devastated during a 15-year war that ended in 1990. It continues to struggle against endemic corruption and a public debt.
DW editors send out a selection of the day's hard news and quality feature journalism. You can sign up to receive it directly here.
kw/kms (AP, AFP, Reuters)