Following his sentencing on Tuesday, Navalny vowed to join his supporters who had organized a protest near the Kremlin via Facebook. Some 18,000 Russian opposition supporters had said they planned to attend.

"Yes, there is this house arrest. But today I want to be with you. So I'm coming," Navalny said in a tweet, accompanied by a picture of himself on the way to the rally.
A Moscow court sentenced Navalny, 38, to a three-and-a-half year suspended jail term on Tuesday for embezzling hundreds of thousands of dollars from two firms, including an affiliate of French cosmetics company Yves Rocher. His brother Oleg was given three-and-a-half years in prison.
Reacting to the ruling, Navalny asked Judge Yelena Korobchenko if she was sending Oleg to jail to "punish" him and called the decision to send his brother to prison a "disgrace."
News agency AFP reported that Navalny had a parting shot for Putin's government, saying "this regime has no right to exist, it must be destroyed."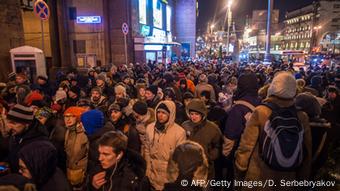 Opposition supporters gathered in Moscow on Tuesday
Surprise move
Navalny's verdict and sentence hearing, which critics have labeled as politically motivated, was brought forward on Monday. The rescheduled court date, more than two weeks earlier than originally planned, came amid demonstrators' plans to hold a rally on the initial January 15 verdict date.
In response to the Russian authorities' surprise move, Navalny's supporters quickly launched a campaign to organize another demonstration in the same location.
Opposition leader
Navalny, a lawyer and popular blogger, rose to prominence due to his investigations of official corruption and his leading role in organizing massive anti-Putin demonstrations in Moscow in 2011 and 2012.
In 2013, in a different criminal case, Navalny was found guilty of embezzlement and sentenced to prison, but he was released the next day after thousands of people protested in the streets of Moscow.

At the time, Navalny contended that the case against him was fabricated and politically motivated in retaliation for challenging Putin.
He was then handed a suspended sentence and finished a strong second in Moscow's mayoral election in September 2013 with 27 percent of the vote.
Navalny was also found guilty of slandering a city lawmaker earlier this year.
ksb/jr (Reuters, AFP)