Japan is in the process of bolstering its defense as the Japanese government claims it cannot afford to be complacent in the face of significant security issues in the region. The Japanese defense ministry said last month it was seeking a three percent increase in defense spending for the coming year, the biggest increase it had requested in over two decades.
The conservative government of Prime Minister Shinzo Abe argues that the changing security situation in East Asia and the Pacific today - particularly with an aggressively expansionist China and a nuclear - armed and unpredictable North Korea as immediate neighbors - require that Japan move away from the minimum deterrence policies of the previous century.
While the United States remains Japan's most important military ally, Tokyo has been looking to forge new security alliances with nations that have similar defense concerns and an equal commitment to international security.
As Tokyo and London are celebrating the 400th anniversary of the first diplomatic relations this year, the time is appropriate for the two countries to cement security ties and sign new defense deals.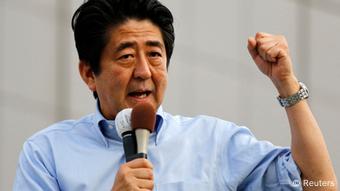 Many Japanese are against military partnership with the US and Britain
Building on agreements
During talks in Tokyo on Wednesday, October 16, Japanese Foreign Minister Fumio Kishida agreed with his British counterpart, William Hague, to build on the pacts that have been signed in recent months to work closely in a number of areas of shared concern, with maritime security, intelligence sharing and anti-terrorism efforts high on the list.
Japan plans to reposition its defense to face the challenges of the modern day, including plans for a US-style National Security Council, told Kishida.
"Japan intends to contribute more proactively than before to regional and global peace and stability under the banner of proactive pacifism," Kishida told a press conference in Tokyo.
Hague stated at the same press conference that London "unequivocally" welcomes Tokyo playing a more active role in global peace and security issues and said he was looking forward to the fruits of the new exchanges.
Two agreements - one on defense equipment cooperation and the second on information security - were signed in London on July 4 by Hague and Japanese Ambassador Keiichi Hayashi, which are designed to create a legal framework for closer cooperation between the two countries in the years ahead. And the work has already begun.
The Japan Technical and Research Institute, which comes under the Japanese Ministry of Defense, and its British counterpart, the Defense Science and Technology Laboratories at Porton Down, have started to collaborate on the development of clothing designed to provide protection against chemical, biological, radiological and nuclear threats.
'Superb technology'
"One attraction of this project is that Japan has a superb technology, especially in materials, and our operational experience - such as with live agents, which the Japanese are not permitted to do - make joint development sensible and effective," a spokesman for the British Embassy in Tokyo said.
Initial projects will focus on the development of non-lethal equipment that can be used in humanitarian crises, peace-keeping operations, disaster recovery efforts and search-and-rescue operations. These might include the development of body armor - which British firms lead the world in - and the technology to detect and destroy land and sea mines.
The British Ministry of Defense believes the project is "a very important milestone" that will lead to further joint projects in the years ahead.
"Overall, the new agreement enables the two countries both to support each other as appropriate when they are operating in close proximity, such as in anti-piracy efforts in the Indian Ocean off Somalia, and to work together to improve their own respective equipment capability," Simon Chelton, a former defense attaché at the British Embassy in Tokyo, told DW.
Similar defense requirements
"From an equipment capability perspective, it is worth reflecting that both Britain and Japan are island nations on the edge of large continents, that are dependent on external resource supply by sea, which means that both have similar needs for maritime and air military capability," Chelton points out.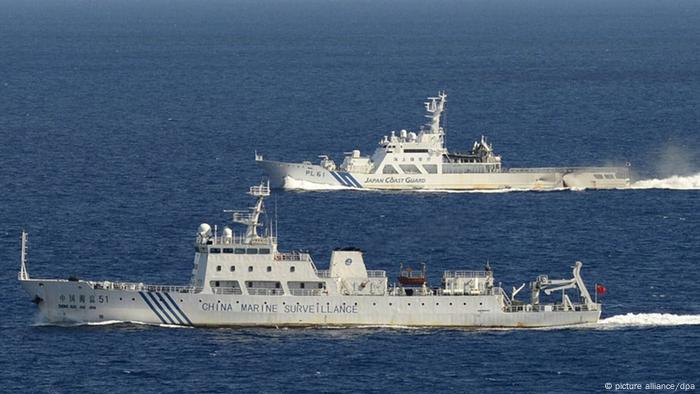 China claims sovereignty over the disputed Senkaku Islands
"Both countries are very close allies of the United States, and maintaining military interoperability with the US is equally important to both," he said. "Both countries have similar-sized defense budgets, and they maintain ambitions to produce at least some of their military equipment from their own national resources."
Chelton also says that neither country's military spending is in any way comparable to that of the US, so the collaboration offers the potential for a "more equal relationship" with the US in this area.
Addressing a conference on regional security in early October, Prime Minister Abe described the burgeoning bilateral relationship with Britain as "a natural 'a priori' partnership," adding that the Royal Navy and the Japan Maritime Self-Defense Force "are joined through the mission we share in common, of maintaining the maritime order."
"Of course, the United States remains our ever-unchanging primary cooperation partner," Abe said. "This is certainly also true for the United Kingdom. On that basis, I would like to state my eagerness for Japan and the UK to exchange knowledge and share experiences with each other and to walk forward together, as partners who jointly accept responsibility for world peace and stability."