Turkish police used tear gas and rubber bullets to break up groups of people trying take part in gay pride marches in Istanbul on Sunday.
The 2017 Istanbul LBGTI Pride organizers had said they would press ahead with their planned march central Taksim Square, despite it being banned for the third year in succession.
"We are not scared, we are here, we will not change," the Pride Committee said in a statement on Sunday. "You are scared, you will change and you will get used to it."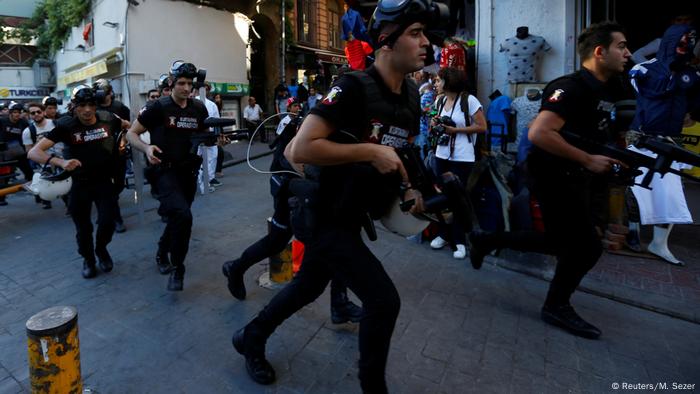 Police kept gay pride marchers from holding a parade in Istanbul
Small groups began to gather in the city's Taksim Square ahead of the 5 p.m. march, but they were said to be heavily outnumbered by thousands of police who dispersed crowds.
The Governor's Office in Istanbul said it prevented the demonstration for the security of marchers, tourists and residents. It also said it was banned due to "serious reactions by different segments of society" from nationalist and conservative circles.
March organizers said the rationale behind the police action was different.
"The true reason for the reactions towards a march that took place in peace for 12 years is hate," organizers said.
"Our security cannot be provided by imprisoning us behind walls, asking us to hide," they added. "Our security will be provided by recognizing us in the constitution, by securing justice, by equality and freedom."
Istanbul Pride organizers said at least 23 activists were taken into custody, including several lawyers.
Read more: In Istanbul, Mr. Gay Syria fears for his life
Riot police at the event last year fired rubber bullets to disperse protesters who defied the ban at a time when the city was on high alert after bombingd blamed on the so-called "Islamic State" militant group. Eleven activists appeared in court this week for having flouted the ban at that time. All were acquitted.
The far-right Alperen Hearths group last week said it would stop the parade from going ahead, even if the government did permit it.
This year the march coincided with the first day of Eid al-Fitr, one of the most important Muslim holidays, which marks the end of the holy month of Ramadan.
Petition made 'weeks ago'
City officials claim there had been no official application for this year's march, but organizer Lara Ozlen from the parade's organizing committee told the AFP news agency this was a "lie."

"They had known about our plan long before because we presented a petition weeks ago," Ozlen said.
Read more: Gay referee wins court battle against Turkish Football Federation
Read more: German politicians among several detained at banned Istanbul gay pride event
Thousands took part in previous gay pride marches in the decade leading up to 2015, when the parade was first banned. A gay pride parade in 2014 drew tens of thousands of people and was one of the largest pro-LGBTI events in the mainly Muslim region.
Critics accuse President Recep Tayyip Erdogan of having steered Turkey towards creeping Islamization. While he has repeatedly caused controversy with conservative comments on sex and family planning, he has tended to avoid public comment on gay issues.
Amnesty International said it had "deep concerns" over the ban. "That decision ignores LGBTs' and their supporters' right to peaceful assembly," it said. "Turkey should protect gay pride rather than banning it."
rc/sms (AFP, AP, Reuters, dpa)