When Hussein arrived in 2014, Istanbul was like a breath of freedom - a place where he no longer felt like he was sick or abnormal.
"I felt like I could take off my mask," Hussein, a slight 24-year-old Syrian barber with a trendy lopsided haircut, told DW over a Skype call from Istanbul.
Back home, in a town close to Aleppo, Hussein, who has asked DW not to use his full name, could never have imagined that one Valentine's Day he would stand on a stage in a small but packed venue in downtown Istanbul and be coronated "Mr. Gay Syria 2016" with a cheap plastic crown.
Rising hate crime
Mahmoud Hassino, a cheerful Syrian refugee who works for a Berlin-based LGBT support center, told DW that the idea was "to create a media buzz" to raise awareness about the plight of gay, lesbian and transgender refugees from the Middle East, where homosexuality is often stigmatized and sometimes outright outlawed.
When Hassino first devised the plan over a year ago, he thought that Istanbul was a liberal enough place to hold such a contest. Still, he said, the promoters didn't publicize the event widely: They kept a low profile, "just in case."
But overall, Hassino said, he did not feel that Istanbul was a particularly homophobic place.
He has since revised that judgement: In Turkey, homophobia is not uncommon and hate crimes are on the rise, according to activists.
Though homosexuality is legal in Turkey, the LGBT community continues to face harassment and abuse as President Recep Tayyip Erdogan attempts to restrict freedoms that are not in line with his religious beliefs. Citing security concerns, last June authorities banned Istanbul's Pride parade, which had drawn thousands of people in the past and was the largest in any predominantly Muslim country. And a wave of hate crimes has targeted the transgender community, as well.
Hassino is afraid for former contestants' safety: "It's not safe anymore, to have someone in the spotlight."
'I might disappear'
A few months after moving to Istanbul, Hussein decided to leave his complicated family history in Syria behind and fully embrace his newfound freedom. Not long after, the phone calls started: Anonymous callers threatening to kill him, in case he didn't "return to the right path."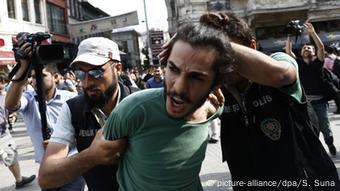 Protests followed Istanbul's 2016 decision to cancel the city's Pride Parade
Hussein thinks that his cousins could indeed follow through with their threats if they manage to find him. That's why he only wants to go by his first name - and asked DW not to publish his picture.
As he lit up yet another cigarette, Hussein recalled the contest. It was fun, he says, liberating even to "finally show who I really am."
Hussein had registered for fun, never believing that he had even a slight chance of winning. "I thought you have to be beautiful," he said. "Me, I'm just normal."
In the end it may have been the scene that he acted out in front of the packed audience that won him the crown: A man comes to his mother's grave for solace, distraught because his family wants to marry him off to a cousin.
He doesn't want to say whether his own family had pressured him to get married to a woman.
Now, however, if Hussein and his Syrian boyfriend, with whom he shares a flat, don't manage to leave Istanbul soon, he might one day regret the attention that the Mr. Gay Syria pageant has brought him. He registered for a UN resettlement program two years ago - and is still waiting.
Hussein said he was desperate to leave Turkey as soon as possible: "I don't know, I might disappear."
That is exactly what happened to his former boyfriend in Syria, the son of family friends who was picked shortly before Hussein fled to Turkey. It's unclear which militias picked him up - but his fate was horribly apparent: His family was sent a video of their son's decapitation.
Istanbul, too, has become much less tolerant, Hussein said, with small pockets where queer-identified people could freely express themselves quickly disappearing. "There used to be parts of the city where you could openly show that you're gay, where no one cared who you are."
"That's no longer possible," Hussein said.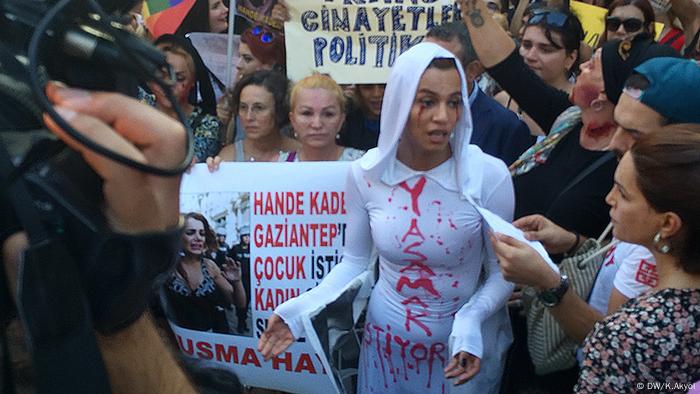 'I want to live,' the message on the white dress reads - the photo hails from protests after the murder of a transgender person in Istanbul
Support in Germany
Hassino said he was doing all he could from Berlin to help the five contestants who took part in the pageant.
One has managed to join his boyfriend in Norway, another is trapped in Greece, and one has disappeared somewhere on the route north. Hussein and one other man are still trapped in Istanbul.
Hassino hopes to pressure the German government to get them all to safety. He points to the members of the activist group "Raqqa is being slaughtered silently" that were relocated to Berlin.
But, Hassino said, that only happened after several members were assassinated in Turkey. "Let's hope the authorities don't need something concrete to happen first," he added, referring to possible attacks on the Mr. Gay Syria contestants.
For his part, on Valentine's Day and a year after being crowned Mr. Gay Syria, Hussein said he had not given up hope: "I dream of living in a country where I can walk down the street and hold my boyfriend's hand."