The self-styled "Islamic State" (IS) militant group on Saturday started a deadly offensive in Shirqat, south of Mosul, according to Iraqi security services. The attack left more than 30 Iraqi soldiers and civilians dead, with 40 others injured.
About a dozen IS fighters were also killed as Iraqi forces repelled the attack on the Sunni village. The militant group lost Shirqat last year to US-backed government troops and tribal fighters.
Elsewhere, US-backed Syrian rebels pushed the IS jihadists out of a suburb of Raqqa, the Syrian Observatory for Human Rights reported on Saturday. The Syrian city serves as the group's de facto capital. The Syrian Democratic Forces (SDF), a group of Kurdish and Arab militias, started their attack on the IS stronghold earlier this week.
In October 2016, the Iraqi government launched an offensive to liberate Mosul from the militant group with the help of Kurdish forces, Sunni tribal fighters, Shiite militias and US support.
Read more: US plan to 'annihilate IS' raises questions over civilian toll, larger strategy
After monts of fighting, Iraqi-led forces have managed to push the militant group into an enclave in the center of Mosul after capturing the vast majority of the city.
In May, Brett McGurk, the US envoy for the global coalition against the "Islamic State," said the fight to retake Mosul was entering its "final stages," adding that Iraqi forces were "completely defeating" the militant group.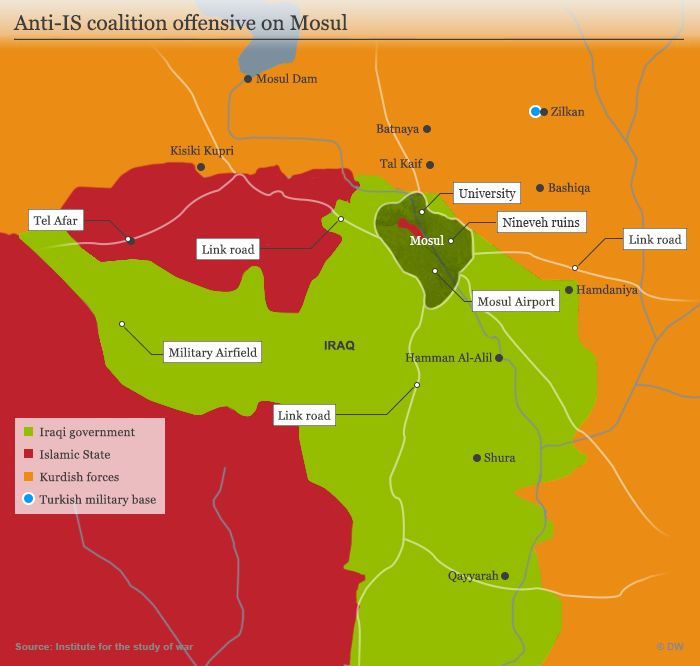 'Despicable acts'
On Thursday, the office of the UN High Commissioner for Human Rights Zeid Ra'ad al-Hussein announced that the "Islamic State" killed hundreds of Iraqi civilians attempting to flee fighting in Mosul.
"Credible reports indicate that more than 231 civilians attempting to flee western Mosul have been killed since May 26, including at least 204 over three last weeks alone," the UN human rights chief said.
"Shooting children as they try to run to safety with their families - there are no words of condemnation strong enough for such despicable acts," he added.
UNICEF has warned that up to 100,000 children may still be trapped in the part of Mosul still controlled by the "Islamic State."
The militant group rose to notoriety in 2014, when it seized large swathes of land in Syria and Iraq, culminating in the capture of Mosul. From a historic mosque in the center of Mosul, the militant group's lead Abu Bakr al-Baghdadi announced the created of a so-called "caliphate."
ls/rc (AFP, Reuters, dpa)