The Indian government said on Tuesday that it had the right to protect itself after confirming that it had carried out an air raid on alleged militant targets in Pakistan that killed a "very large" number of fighters.
The bombing was in response to a February 14 attack on a security convoy in Kashmir. New Delhi has accused Pakistan of granting safe haven to the Jaish-e-Mohammad terrorist group (JeM) that carried out the attack. At least 40 troops were killed in the worst assault on Indian troops since the insurgency in Kashmir began in 1989.
"This was a necessary step for the defense of the country, and Prime Minister Narendra Modi had given the armed forces a free hand," said Prakash Javadekar, minister of human resource development.
A "very large number of JeM terrorists, trainers, senior commanders and groups of jihadis who were being trained for fidayeen action were eliminated," India's foreign secretary, Vijay Gokhale, said in a briefing.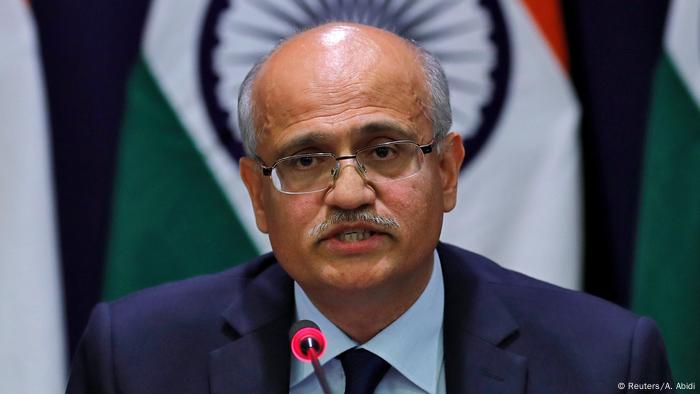 Indian Foreign Secretary Vijay Gokhale said India struck 'the biggest training camp' of Jaish-e-Mohammad in the Balakot region early Tuesday
Islamabad: India should have better sense
Pakistan downplayed the strikes, claiming there were no casualties.
A spokesman for the Pakistani military, Major General Asif Ghafoor, said that the Indian bombers had "released payload in haste," near Balakot, at the edge of Pakistan-administered Kashmir.
Ghafoor tweeted pictures of the alleged site purportedly showing a bomb crater in a forest area but no serious damage.
Balakot police chief Saghir Hussain Shah told the Associated Press that the bombs had been dropped on a sparsely populated forest area.
"There are no casualties, there is no damage on the ground because of the dropping of the bombs," he said.
Villagers in the area where the incident occurred reported four loud bangs early Tuesday morning, but said only one person was wounded by bomb shards, according to the Reuters news agency.
Pakistan's Foreign Minister Shah Mehmood Qureshi said that better sense should prevail in India, and that Islamabad would respond in kind to any "misadventure."
Read more: Why Kashmir attack could spark a military confrontation in South Asia
EU urges restraint
The prime ministers of India and Pakistan summoned emergency meetings of top lawmakers following the attack.
The EU called on New Delhi and Islamabad to exercise "maximum restraint."
"We remain in contact with both countries and what we believe is essential is that all exercise maximum restraint and avoid further escalation of tensions," EU spokeswoman Maja Kocijancic told reporters.
China, which shares a land border with the disputed region, also called for "restraint" in a statement by its foreign ministry spokesman Lu Kang.
"We hope that both India and Pakistan can exercise restraint and adopt actions that will help stabilize the situation in the region and improve mutual relations."
Tensions are extremely high between the two neighbors and longtime enemies after the February 14 attack. The contested Kashmir region has been the cause of two wars between India and Pakistan.
kw,es/jm (AP, dpa, Reuters)
Each evening at 1830 UTC, DW's editors send out a selection of the day's hard news and quality feature journalism. You can sign up to receive it directly here.