"The boat is full," Hungarian government spokesman Zoltan Kovacs told Austrian media on Tuesday, referring to the growing number of migrants in his country. "We all wish for a European solution, but we need to protect Hungarian interests and our population."
Kovacs stated that Hungary had suspended application of EU asylum claim rules, according to which a migrant's application has to be processed in the EU country where the person first arrived.
These rules are known as the Dublin Regulation and require people seeking refuge to do so in the EU country where they first arrive. Hungary refuses to take back refugees who first arrived there before travelling to another EU member state. According to the government, more than 60,000 migrants have crossed into Hungary so far this year - most of them after passing through neighboring Serbia.
A spokeswoman for the European Commission stated that Budapest had said the suspension was for a "technical reason," adding: "The Commission has asked Hungary for immediate clarification on the nature and extent of the technical failure."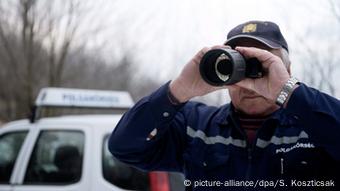 Hungary has stepped up patrols along its border with Serbia
Last week, Hungary announced its controversial plan to build a four-meter (13-foot) high fence on its border with Serbia to keep out migrants.
Hungarian Prime Minister Viktor Orban, known for his anti-immigration stance, said earlier this month that the era of multiculturalism was over and that his country should be spared its effects at all costs.
Hungary's step to suspend the Dublin Regulation particularly affects neighboring countries such as Austria. An Interior Ministry spokesperson in Vienna said his country was pushing to "find a solution as quickly as possible."
EU migrant plan 'unacceptable': Visegrad countries
Hungary and three other Central European countries - Slovakia, Poland and the Czech Republic - have declared that they refuse to accept the EU's plan for its 28 member nations to share the burden of hosting migrants seeking asylum. This plan would require EU countries to take set numbers of refugees arriving in Italy and Greece.
The four Visegrad countries called the plan "unacceptable" in a statement issued on Tuesday, adding that they were ready to show solidarity with Italy and Greece on the migrant situation on a voluntary basis.
Slovak Prime Minister Robert Fico also stated on Tuesday that his government would consider a referendum on the migrant plan if the EU managed to push it through.
EU leaders will discuss the emergency migrant plan during a summit in Brussels starting on Thursday.
More than 100,000 people have made the dangerous sea journey across the Mediterranean to Europe so far this year. Almost 2,000 have died or gone missing during the journey in overcrowded boats.
das/cmk (AFP, Reuters, AP)