Hollywood's biggest pre-Oscars prize-giving ceremony takes place on January 7. It is the first major award ceremony since the start of the #MeToo movement and showcases an industry which, after operating for decades under the motto "sex sells," is having to reinvent itself.
Organized by the 90-member Hollywood Foreign Press Association (HFPA), a total of 25 prizes are up for grabs on Sunday — 14 in film and 11 in television — at the Golden Globes awards ceremony. But the mood in Los Angeles in the wake of widespread sexual harassment claims is rather heavy.
As was the case two years ago with the #Oscarssowhite campaign, social media was a driving force in this new reality check for Hollywood.
Change is in the air
Even before the launch of Hollywood's annual awards season, the fallout of the scandal has already managed to change the face of the industry in various ways — and appears to be set to do so for the foreseeable future.
Celebrities and filmmakers who used to be major players in the film business are now being shunned, written out of shows or snubbed in nominations for their alleged transgressions in the past.
Read more: Kevin Spacey cut from a new Ridley Scott movie a month before release
A major talent agency has canceled its annual Golden Globes party in order to instead fund legal defense for victims of sexual harassment; and the Screen Actors Guild (SAG) Awards, held later in January, will feature all female presenters this year.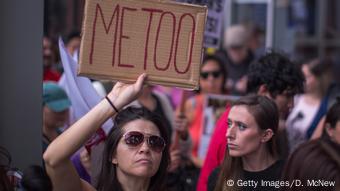 The #MeToo movement has mobilized generations of women in the US and beyond — not just in the film industry
Meanwhile, actors and actresses stress that victims of sexual impropriety aren't only those living celluloid dreams in Hollywood or the masterminds behind the camera.
The #MeToo hashtag continues to shed light on an entire culture that for many years has treated inappropriate behavior as a rite of passage rather than a punishable offense.
Actress Michelle Williams, who is nominated for a Golden Globe for Ridley Scott's kidnap drama "All the Money in the World," told press agency Reuters that everyone she has been in touch with "is relishing the opportunity to make this kind of visibility and attention more meaningful than simply about the glorification of a single profession."
Debra Birnbaum from Variety magazine told news agency AFP that "across film and TV, there's also the opportunity to reward roles for women that are strong, powerful and compelling beyond simply their relationships to men," stressing that the scandals in Hollywood's film industry should be used as a means to highlight such abuse everywhere.
Oscars so white, Globes so black
With this year's ceremony marking the 75th anniversary of the Golden Globe, the overall frame of mind at the event is expected to be somewhat more subdued and introspective than usual.
The focus on Sunday night is bound to be as much on the stars' acceptance speeches and the messages behind some of the prizes as on the performances being honored at the event.
Particular attention will also be paid to the choice of dresses on the red carpet — but for different reasons than usually is the case.
A number of famous actresses have decided to take a stand against the mounting allegations of misconduct in the film industry in recent months by choosing to wear black to the Golden Globe Awards Ceremony. Jessica Chastain, Meryl Streep, Gal Gadot, Saoirse Ronan, Mary J. Blige, Allison Janney and Emma Stone are all among the Hollywood A-listers who have decided to partake in this silent protest against misogyny and sexual violence.
But there is some controversy surrounding the women's campaign; instead of wearing the traditional color signifying bereavement, some film industry insiders said that women should celebrate their femininity and wear bright colors instead.
Jenny Cooney, a member of the Hollywood Foreign Press Association, which organizes the Globes, tweeted "why should women not stand proud and in living color to show we will not be subdued and held down?"
The tweet came in response to a prior message by writer and producer Elisabeth Sereda, who also urged actresses to "please wear bright colors 2 celebrate our power, not black 2 mourn the predators. They don't deserve it."
The call for women to wear black, however, is also supported by a new initiative launched in the wake of the #MeToo movement. The "Time's Up" coalition, which was launched at the beginning of the new year in solidarity with those who have been sexually harassed, has vowed support for women in the entertainment business and beyond — from "janitors to health care workers."
"Time's Up" is backed by a host of famous Hollywood actresses, including Reese Witherspoon, Shonda Rhimes, Jennifer Aniston and hundreds of other Hollywood women. The organization says it will include a legal defense fund and advocate for legislation combating workplace harassment.
Read more: Hollywood women launch anti-harassment campaign
Men in Black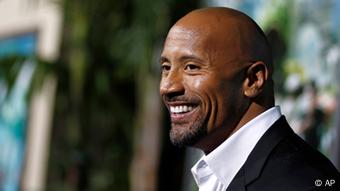 Dwayne Johnson and other male Hollywood stars were mocked for saying they would wear black at the Globes
A number of leading male actors in Hollywood have meanwhile expressed that they would be supporting the protest at the Golden Globes as well, including Dwayne "The Rock" Johnson. However, their show of solidarity has prompted some ridicule rather than appreciation.
"Don't most men who attend the Globes come cloaked in either all-black or mostly black, with a black suit and black shoes and a black tie, anyway?" asked the New York-based news site Mic.
While the Globes don't call for any formal dress code, most male actors typically choose to show up wearing a black tuxedo. Some commentators have suggested that adopting a pin or ribbon would be a more appropriate reaction to the Hollywood scandal.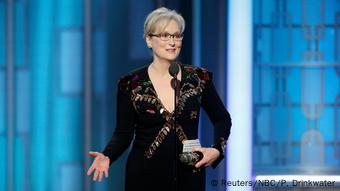 Actress Rose McGowan was one of Meryl Streep's strongest critics, following her reactions to the Weinstein case
Others have called for male showbiz personalities to refrain from commentary at this point; some male actors and comedians sharing their controversial reactions to the #MeToo momentum have been virulently admonished — actor Matt Damon and talk show host James Corden being two examples.
The issue has become so sensitive - especially with male personalities - that NBC late night host Seth Meyers, who will compere the event for the first time, has already vowed in advance not to pull punches on Hollywood's sexual misconduct scandal.
But it's not only men who have been reprimanded in the wake of the Harvey Weinstein affair. After her initial silence on the Weinstein case, Meryl Streep's reactions were also perceived as somewhat hypocritical.
Read more: Meryl Streep wants to hear Melania and Ivanka Trump on #MeToo
A new beginning
As the awards season turns the focus on Hollywood, the #MeToo movement provides an opportunity not only for the film industry to reinvent itself but also for the world at large to highlight an issue that has long been ignored or swept under the (red) carpet.
Whether or not that change can be driven by stars and starlets at red carpet events is unclear - but it is certainly a good place to start.