Meryl Streep repeated that she "really didn't know" about Hollywood producer Harvey Weinstein's sexual offenses in a New York Times interview alongside Tom Hanks, her co-star in the newly released film "The Post."
"I did think he was having girlfriends. But when I heard rumors about actresses, I thought that that was a way of denigrating the actress and her ability to get the job," Streep said in the interview published on Wednesday. "I didn't know that he was in any way abusing people. He never asked me to a hotel room."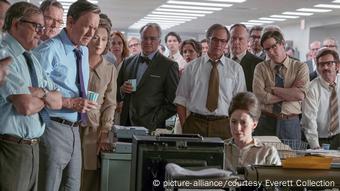 Meryl Streep and Tom Hanks co-star in Spielberg's drama "The Post"
Streep has insisted several times that she had no clue of Weinstein's misconduct, even though she has worked with Weinstein on different films, and once jokingly referred to him as "god" during a Golden Globe acceptance speech.
Read more: Harvey Weinstein allegations: Meryl Streep, Jennifer Lawrence and other actors express dismay
From Weinstein to Trump
Actress Rose McGowan was one of the public figures to slam Meryl Streep on Twitter for her hypocrisy over the Weinstein case. Posters showing a smiling Streep standing alongside the disgraced producer also popped up in LA in December, her eyes covered with the words "She Knew." The street artist behind the posters later revealed himself as a right-wing activist who aimed to retaliate against Streep for her anti-Trump politics.

Read more: Trump hits back at 'overrated' Streep after Golden Globes speech
In the New York Times interview, Meryl Streep explained her initial silence on the Weinstein case by saying that she didn't realize at first that people expected her to react publicly immediately, since she's not on social media.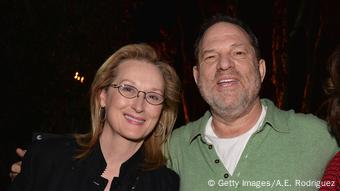 Meryl Streep and Harvey Weinstein in 2014
She added that she first needed time to think, "Because it really underlined my own sense of cluelessness, and also how evil, deeply evil, and duplicitous, a person he was, yet such a champion of really great work."
She then pointed out that if everyone was waiting for her to speak, other powerful women have remained silent on the #MeToo movement: "I don't want to hear about the silence of me. I want to hear about the silence of Melania Trump. I want to hear from her. She has so much that's valuable to say. And so does Ivanka. I want her to speak now."