In the past few years, Hong Kong's annual pro-democracy rallies have become a protest demonstration against China's increasing dominance over the city state.
Pro-democracy activists in Hong Kong say that Beijing has tried to silence dissent in the city since massive anti-China protests erupted in 2014.
Thousands of people in Hong Kong braved sweltering heat on Sunday and took to the streets to protest against Beijing's tightening grip on their city.
"End one-party dictatorship! Reject the deterioration of Hong Kong!" chanted protesters.
"It is about justice," Ms Liu, a 74-year-old protester, told the AFP news agency.
"The problems in Hong Kong have always been serious but now they're getting worse," she said.
Hong Kong, the former British colony that returned to Chinese rule 21 years ago, enjoys more political freedom than mainland China. However, there are concerns that these freedoms have come under threat from a repressive pro-Beijing local government.
China's rise as an economic superpower has also emboldened authorities in Beijing to exert more pressure on Hong Kong.
Read more: Hong Kong pro-democracy movement loses ground in by-election
China tightens grip
Beijing's refusal to grant Hong Kong full legislative autonomy triggered massive anti-China protests in 2014 under the "Umbrella Movement." The movement, spearheaded mostly by Hong Kong youth, brought the city to a standstill. Since then, city authorities have dealt with dissidents forcefully.
Pro-democracy and pro-independence politicians have been barred from standing for office in Hong Kong's partially elected system, or have been removed from their seats they had secured through a public vote.
Read more: Police in Hong Kong found guilty of assaulting protester
Last month, Edward Leung, 27, one of the leaders of a movement advocating Hong Kong's independence from China, was jailed for six years for rioting and assaulting police in a 2016 overnight protest that turned violent.
Ahead of Sunday's rally, Hong Kong authorities rejected a number of starting points for public gatherings and deployed hundreds of police.
"This year is a turning point in which (authorities) have used different ways to mobilize their power to suppress the rally," Sammy Ip from the Civil Human Rights Front, one of the rally organizers, told AFP.
At a ceremony to mark the 21st anniversary of Hong Kong's return to Chinese rule, Chief Executive Carrie Lam said that the "one country, two systems" framework was working smoothly for Hong Kong.
Chinese President Xi Jinping also attended the event.
"Without fear, we correctly deal with our relationship with the central government. And we promote a stronger understanding of the constitution, the Basic Law, and national security in all sectors," Lam said.
Read more: Hong Kong's 20 years under Chinese rule – A failed project?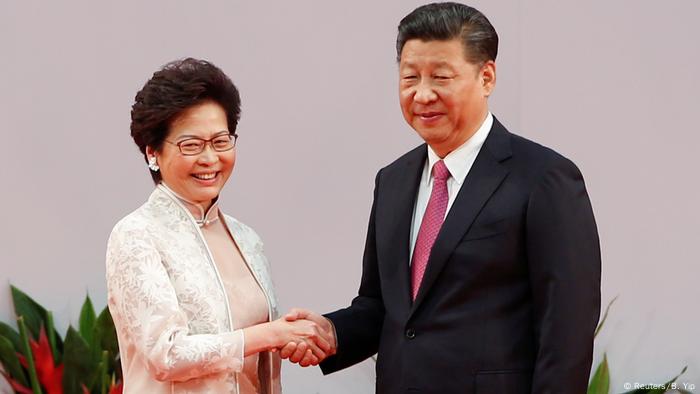 Hong Kong Chief Executive Carrie Lam and Chinese President Xi Jinping marked the 21st anniversary of the city's handover from British to Chinese rule
Pro-democracy movement losing steam?
Johannes Chan Man-mun, a prominent Hong Kong-based law professor, believes the pro-democracy movement has been on a back foot and needs "new ideas."
"There are many tools at the disposal of Hong Kong's pro-democracy movement's followers to address issues related to social justice. Looking back at the past two years, so many confrontations would not have been necessary. They allow the issue to briefly attract media attention, but achieve nothing more. So there is a need to come up with new ideas," Johannes told DW, adding that violence cannot solve problems.
shs/ng (AFP, Reuters)