Sport is often seen – and sold – as one of life's great levellers, a beacon of meritocracy in societies in which ability is often trumped by nepotism or vested interests. But, despite the perception, evidence suggests that, in one area at least, the goal of equality remains a pipe dream.
The first results of a 5,500-person European Union-wide study, conducted and published earlier this month by the German Sport University in Cologne (DSHS), found that nine of 10 respondents from the LGBTI community believe sport has a problem with homophobia and transphobia.
Read more: Thomas Hitzlsperger: Players should speak out more on social issues
The most common way this prejudice is experienced is through derogatory slurs (82 percent of those surveyed) and sexuality-based discrimination (75 percent) while one in five respondents reported violent altercations and more than a third "physical transgressions."
Professor Ilse Hartmann-Tews, who was part of the DSHS team that conducted the study, told DW that, although it was early days in analyzing the results, experiences varied widely across the 28 EU nations and that sporting bodies needed to do more to address such concerns.
A couple of weeks later Kick it Out, a prominent British anti-discrimination group focused on football, reported that instances of homophobia in British football were up nine percent last season, part of what they see as an overall trend towards increased discriminatory abuse.
Read more: Lack of role models holding back gay footballers
Stonewall step forward
But there are shafts of light in the gloom. On Friday evening, Stonewall FC – widely regarded as the most successful LGBT football club in the world – are to play Wilberforce Wanderers in an English amateur regional league clash at Wembley. Their manager, Eric Najib, will follow in the footsteps of Sir Alex Ferguson, Jürgen Klopp, Jose Mourinho and many other top level bosses and lead his side out at a place many regard as football's spiritual home.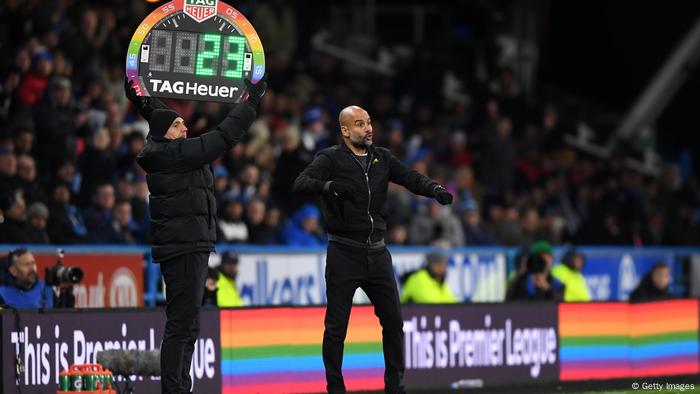 Manchester City coach Pep Guardiola during last year's Rainbow Laces campaign
Najib has been with the club since 2001, a decade after it formed, and told DW that his experience hasn't matched the reports from the DSHS study. On the contrary, Najib has seen a rise in respect and tolerance from Stonewall's opponents, something he thinks reflects improving attitudes in society.
"For example, we used to play a team that were Hispanic in nature and there was no problem on the pitch but they wouldn't leave the dressing room until we'd vacated the area," he explained. "I don't know what they thought was going to happen but they just felt uncomfortable."
"Within two or three years of us playing in the same league, seeing the same faces a 'hello' becomes a 'how are you?' that becomes a 'how's your season going?' and with familiarity, everything is humanized."
The game at England's national stadium is part of the Rainbow Laces campaign run by Stonewall, the LGBT charity linked to the team. Premier League footballers, rugby internationals, darts players and competitors from all manner of sports have been using rainbow-colored laces on their footwear throughout November to show support for lesbian, gay, bisexual and transgender players and fans. Matches have also featured rainbow flags, substitutes boards and other matchday paraphernalia.
Lacing up
Though the rugby teams of France and New Zealand rainbow-laced their boots against Wales last week in support of former rugby star Gareth Thomas (a former Welsh international who came out as gay towards the end of a storied career) after he was the victim of a homophobic assault, the campaign has yet to make any real impact in Germany.
While German sport has its share of campaigns and educational initiatives, it doesn't have anything on quite the same scale as Rainbow Laces. The Germany Olympic Sports Confederation (DOSB), which represents around 27 million sports club members, told DW they believe things are going in the right direction and that notable athletes speaking about their sexuality is important.
"The way society as a whole is developing regarding homosexuality is contributing to sport opening up more and more," said Kirsten Witte-Abe of the DOSB's equal-opportunity and diversity department.
"Well-known sports figures such as [former German international footballer] Thomas Hitzlsperger or [Olympic beach volleyball gold medallist] Kira Walkenhorst are also helping raise awareness of the issue by, for example, publicly coming out."
Difference in approach in Germany
In terms of the country's leading sport, football, the Bundesliga and Bundesliga 2, operated by the German Football League (DFL), run programs and work with gay-rights charities to educate clubs and players at a variety of levels, many – but by no means all – of whom have signed up to its Fußball für Vielfalt (Football for Diversity) campaign.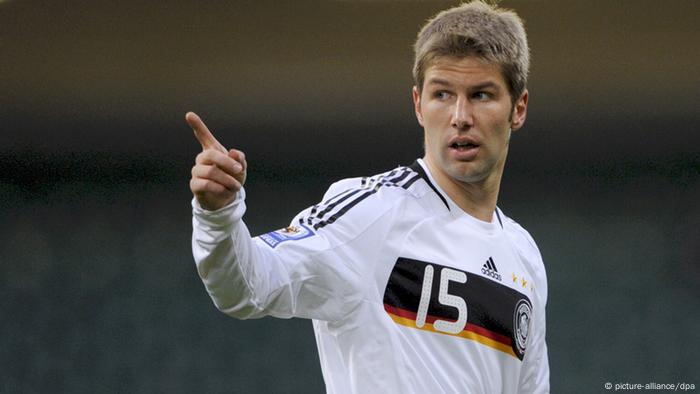 Thomas Hitzlsperger is one of the only top level footballers to come out as being gay
A representative of the organization told DW that, though the numbers weren't clear, the DFL hasn't noticed a rececnt rise in homophobia but said they take the issue seriously. As things stand, the DFL has no concrete plans to offer a round of games or other measures to promote an anti-homophobia or transphobia message, in the way that it does with other issues such as racism or refugee rights – though this may change in the future.
The country's other major football body the German Football Association (DFB) ignored repeated requests for comment on this story. Fortunately for Stonewall and their manager, the English FA were a little more forthcoming, and Najib believes that cooperation can make all the difference.
"Some of the people I spoke to, people I played with or under, were crying over the phone when they were told [about Wembley]," says Najib. "As much as we are the fortunate team that are benefitting from the actual match, I think this is a celebration for all the LGBT football teams."
Despite some of the more worrying statistics, hope remains that there will be more of these to come.