Alexander Agapov secures a rainbow flag on the stage. He lays out pieces of paper showing footballers holding hands at the entrance. Then the movie "Wonderkid", a film about a young gay footballer, is projected onto a screen.
Since 2013, a law in Russia forbids speaking positively about homosexuality to minors. The exhibition took place in the German Goethe Institute and Agapov sent driving instructions to every one of his guests personally. There are no placards, no online advertisements.
For the last three years, he has been the head of the Russian LGBT Sport Federation, the sport organization for lesbian, gay, bisexual and transgender people in Russia. He wants to fight for sport without discrimination, but he can't be too flamboyant.
Smoke bombs in the gymnasium
In Russia, civil society is seen as a counter movement to the Kremlin and as a projection for the Kremlin's concerns about its loss of power. In 2012 there were still 400,000 non-government organizations (NGOs), but now only 220,000 remain.
Those organizations receiving foreign financial aid were classified as "foreign agents" following a law change in July 2012. That has made it significantly more difficult or impossible to do business in Russia.
The situation may seem bleak, but many organizations like Agapov's don't want to give up. "We have to stay creative," he said.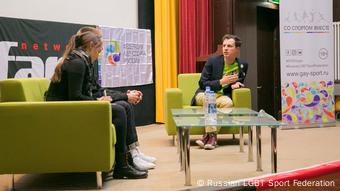 Alexander Agapov (right) at the Goethe Institute in Russia
Agapov, 35, grew up in a tough conditions on the outskirts of Moscow. He recognize early that he was attracted to men and quickly experienced the life of a loner. He found the Russian LGBT Sport Federation on social media. The sport organization had around 1,700 members from more than 50 communities.
"Sport is more than amusement," Agapov said. "Sport provides us with security."
He realized how difficult it is to defend this protected space in 2014 at the "Open Games." Around 300 athletes from Russia, Europe and North America participated in this sporting festival. One prominent participant was Greg Louganis, an Olympic diver who won gold medals at the 1984 and 1988 Summer Olympics.
Another was Dutch sports minister Edith Schippers, who left the event early. Shortly thereafter, police cleared the gymnasium, allegedly because of a terror threat. Other sports facilities and hotels withdrew their support, the reasons being over bookings, electrical failures and plumbing issues. A smoke bomb was burned in one gymnasium. Since then, Agapov hires security for bigger events.
Frustration and prejudice dumped on minorities
The reasons for this animosity is complex, says Ekaterina Kochergina from the independent Levada Center, a Russian think tank. Nationalism has escalated since the annexation of Crimea in 2014. Russia, which has around 100 ethnic groups, is searching for an overall identity. The population, currently at 143 million, could decrease by 20 million by 2050. Financial concerns are compensated with rejection, above all against migrants from Central Asia and homosexuals.
"Frustration and prejudice are often associated with one another," said Kochergina.
The Russian LGBT Sport Federation is standing against it. The organization is not yet listed as a "foreign agent." Sport is perceived as an unpolitical and unsuspicious domain. To the owners of the gymnasiums, the athletes present themselves as classmates or work colleagues. They target gymnasium times on the less popular evenings.
No discrimination
In a few days, football fans from all around the world will experience the World Cup in Russia. Agapov knows the violent threats from neo-Nazis on social media towards gay fans in Europe, but he has registered the statements of the World Cup hosts.
"We have given FIFA guarantees that it will be possible to take rainbow flags into the stadium," said chief organizers Alexey Sorokin. "Of course, everything has to be in line with general morality, which, as I see it, does not differ from that in the Western world. There will be no discrimination in a sexual or religious orientation during the World Cup."
Then how can it be that Egypt will stay in Chechnya, the sub-republic where homosexuals were tortured and murdered?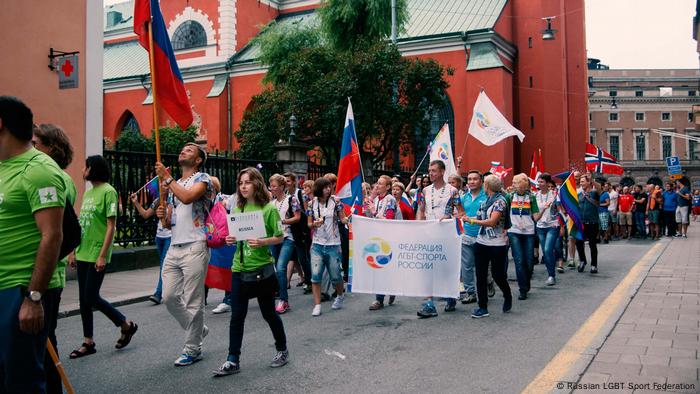 A demonstration at the EuroGames in Stockholm
The LGBT sports organization needs money in order to be able to send athletes to international competitions in Stockholm and Amsterdam. Some footballers feared being beaten by the police, like they were in Russia. But they couldn't believe it when they were cheered.
"That is an important step for our emancipation," said Agapov.
He hopes that, despite everything, many people will visit for the World Cup — and that his home is not just reduced to President Vladimir Putin. The interest can help the activists with their network. Even today there is no established donation culture. Eventually the LGBT athletes want to have their own office, even if they probably cannot hang a big name tag over their door.