German parliament, the Bundestag, may have passed a bill to allow gay marriage in June, but that doesn't mean that homosexuals are automatically accepted in all parts of German society. Information revealed Wednesday by the German Interior Ministry shows that the number of crimes committed against homosexuals and bisexuals has in fact risen significantly in 2017.
In the first half of this year, from January 1 to July 28, there were 130 hate crimes reported connected with the victim's sexual orientation. Over the same period in 2016, 102 crimes of the same nature were reported. That represents an increase of roughly 27 percent.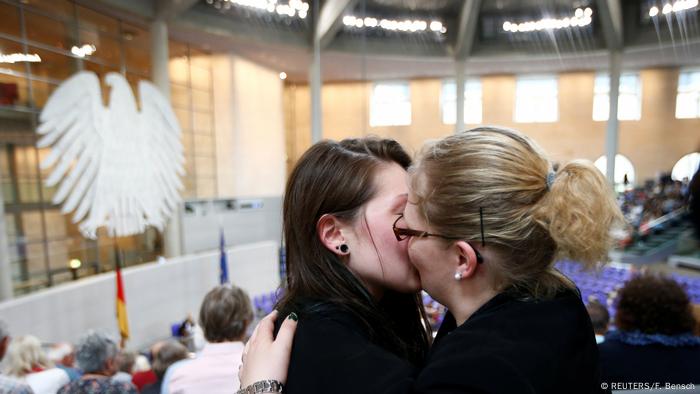 When parliamentarians finally approved gay marriage, homosexual couples celebrated across Germany
The ministry released the numbers in reply to an inquiry by Green party MP Volker Beck. The long-serving parliamentarian is a gay rights advocate who had pushed the Bundestag to pass gay marriage for a long time.
The rise in homophobic crime shows that the fact the law had finally passed, did not mean the job had been done, according to Beck.
"We have equal rights now, but we can only live our lives freely if we don't have to be afraid of violence and discrimination anymore," he said in a press statement. "Homophobia and transphobia are problems that need to be addressed."
Hate crimes under the subcategory "sexual orientation" are defined by the Interior Ministry as "all criminal acts motivated against LGBTI (lesbians, gays, bisexuals, trans- and intersexuals)."
Of the 130 crimes reported in the first six months of this year, the three biggest categories were assault (29 cases), acts of sedition (25) and coercion or harassment (7).
Read more: How welcome are LGBTI refugees in Berlin?
Those numbers, however, are only the tip of the iceberg.
"If we assume that 80 percent of [homophobic] cases are not reported, then there are actually more than 1,000 cases in this time frame," Markus Ulrich, spokesman for the Lesbian and Gay Federation in Germany (LSVD), told DW. "That would amount to around six cases a day."
Other experts estimate the number of unreported cases to be even higher. But it is important to consider that the increase in reported crimes could at least partly stem from the fact that more and more people actually take the step of reporting what happened to them to the police. In turn, authorities increasingly recognize that a victim was targeted because of his or her sexual orientation.
Fighting prejudice
No matter what the reason for the rise in reported crimes is, the total number is too high, Ulrich says. The LSVD states that there are several ways to combat homophobia, transphobia and other prejudices that lead to crimes against their community.
Read more: SPD drag queen apologizes for racist remarks
Prevention is better than a cure when it comes to battling hate and prejudice. That's why Ulrich includes educational programs in schools among the measures to tackle anti-homosexual sentiment and violence:
"If we can bring down prejudice among the population this way, we'll also bring down the number of crimes."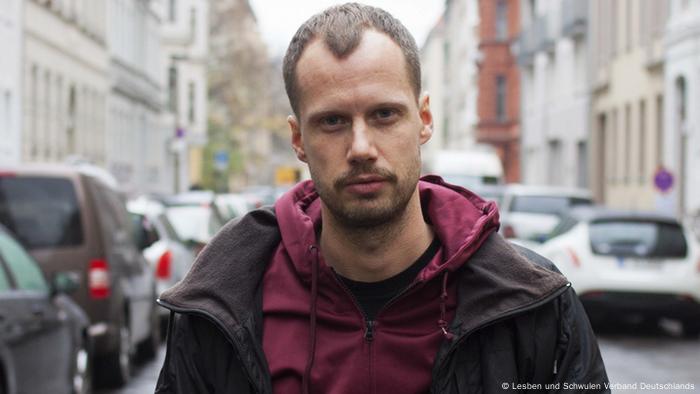 Ulrich says Homophobia and transphobia must be taken into account as a motive

In the 1950s and 60s, when homosexuality was still illegal in Germany, a gay couple who had been attacked would have never gone to the police. Many would not even dare tell friends they were gay and hid their sexuality in public. Admitting it to the police was out of the question.
That's why it is crucial to build a relationship of trust between the police and the LGBTI community, Ulrich says. Otherwise, those who experience threats, violence or discrimination will not turn to the police for help, maintaining a high number of unreported cases.
Police need better training
Currently, there's little sensitivity about the topic among police officers, Ulrich says. They need to become better at recognizing homophobia or transphobia as a motive. The LSVD complains that a victim's sexual orientation is too often not taken seriously as an explanation for being attacked.
"They need to know that they can go to the police and not be treated disrespectfully," Ulrich emphasized. "This is especially important for older gays or lesbians, who might have had bad experiences dealing with police in the past."
The hope is that with a better-trained police force, more perpetrators of homophobic crimes can be caught. After all, their hate and violence doesn't only hurt the people whom they attack or harass.
"The attackers' intentions are to send a signal to the whole community," Ulrich said. "They want to push lesbians and gays back into the closet."