Revealing that crimes against homosexuals had risen by a fifth from January to September, Ole Schröder, a Christian Democrat junior minister for the interior, told German MPs on Wednesday that a total of 205 incidents had been reported.
Those figures compared to 171 reported crimes against lesbian, gay, bisexual, transgender and intersex (LGBTI) people in the same period last year, he added.
Ole revealed that 99 suspects had been identified in 2016, slightly higher than the 86 people investigated last year.
But he conceded that the figure did not reveal the extent of the issue, adding that many LGBTI victims don't report homophobic crimes. Germany categorizes such offenses as "politically motivated crimes" under the sub-topic "sexual orientation."
Berlin figures high
Reporting the figures in its Thursday edition, the German daily "Süddeutsche Zeitung" said 113 homophobic crimes had been reported in the capital Berlin alone, in the first nine months of the year.
The cities of Hamburg and Cologne don't collect figures for crimes against homosexuals, it added, despite having vibrant gay scenes.
In response to the latest figures, Green party MP Volker Beck on Thursday called on the government to speed up the implementation of an action plan to highlight the issue and reduce the incidence.
He said the federal government, along with individual states, must now prioritize the reporting of homophobic incidents.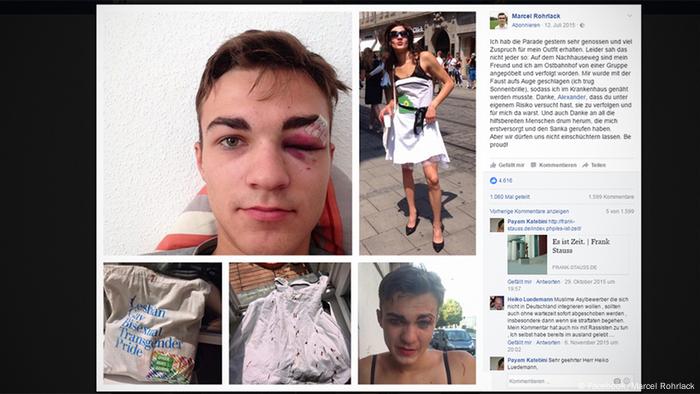 Green party activist Marcel Rohlack received a black eye when walking home from a Gay Pride event in Munich last year
Also on Thursday, Marcel Rohrlack, spokesman for the Greens' youth wing in Bavaria, complained that the state was effectively covering up crimes committed against LGBTI individuals.
He told the daily "Süddeutsche Zeitung" on Thursday that "Bavaria makes homosexual and transphobic-motivated crimes invisible."
The 20-year-old said despite that being raised numerous times, the regional assembly had rejected proposals to improve the reporting of so-called "gay bashing" incidents.
Rohrlack went public when he and a friend were attacked in summer 2015 on his way home from celebrating Munich Gay Pride, known as "Christopher Street Day."
The sociology researcher, who was wearing a woman's dress and high heels, was set upon by a group of men and left with a black eye.
He told the national paper based in Bavaria that there was a lack of diversity training among Germany's police forces, despite the presence of "VelsPol," an association for LGTBI officers.
Victim of online trolls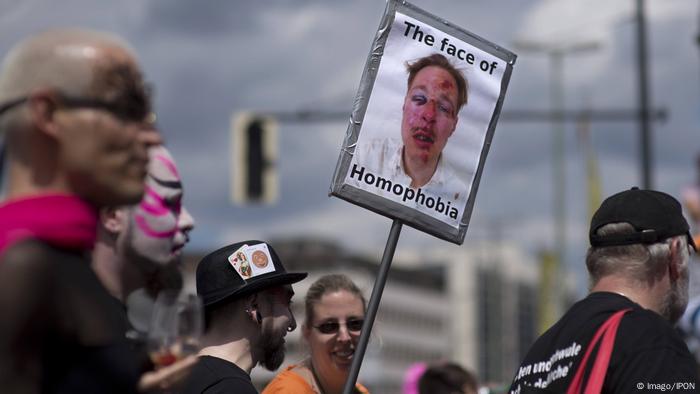 Gay rights activists regularly highlight the destructive nature of homophobia and gay bashing on their communities
Rohrlack said that he had received widespread support after revealing what happened to him, but also complained that messages of hate had "outstripped the solidarity posts" on social media in the weeks that followed the attack.
In June, German Chancellor Angela Merkel said she was concerned about a rise in anti-gay sentiment in Germany.
Her comments following the Orlando gay nightclub shooting, in which 49 people were killed.
Merkel said that relations "must be shaped by respect for the other - no matter what he believes, no matter what he looks like and no matter whom he loves."