Ali is six, and yet already he fiercely chants "Death to America" and "Death to Israel" at a rally alongside his family. It is a typical Beirut rally, organized by the Shia militia Hezbollah, to protest US President Donald Trump's decision to recognize Jerusalem as the capital of Israel.
"At six, he is too old to not be here," his mother Fatima said as she pushed the stroller carrying Ali's baby brother, justifying her decision to bring her children to a political rally. She seemed unconcerned that his words were hate speech.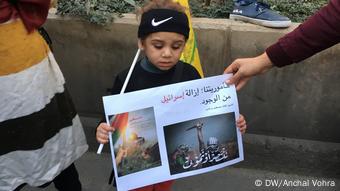 A Lebanese mother hands protest material to her toddler at a Hezbollah rally in Beirut following Trump's Jerusalem announcement
Fatima is a follower of Shia Islam and a Hezbollah supporter, like most of the thousands of people who had gathered in south Beirut's Dahiya district, Hezbollah's Shia-majority heartland.
The route of the march was a market street packed with men and women, all segregated on either side of the central reservation and walking to the soundtrack booming out from a television screen hanging from a flyover.
The screens subsequently relayed a speech from Hezbollah's leader, Hassan Nasrallah. "After victory in Syria and Iraq, we will focus on Israel," Nasrallah announced to a rapturous response.
Read more
— US vetoes UN vote for withdrawal of Trump Jerusalem decision
— Jerusalem: Three things to know
Indoctrination begins early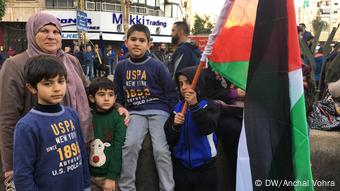 This mother and children were happy to pose with a Palestinian flag at the Beirut rally
There were as many if not more women and children as men at the rally. Women like Fatima brought their kids along not because of a lack of nannies or day care centers, but to purposely acquaint them with Hezbollah's self-proclaimed cause — resistance to Israel.
"This is the right age to learn about how the Jews took our land," Fatima said. She spoke heatedly about the events of 1948, when the state of Israel was formed on Palestinian land. "America helps Israel regularly and imposes war on us and now the Satan wants to give our mosque to the Jews," Fatima said.
The Al Aqsa Mosque is the third most sacred site in Islam and is situated in East Jerusalem. In the Six-Day War in 1967, Israel seized and annexed the Old City, and Palestinians and the wider Arab world have been demanding its return ever since. President Trump's widely criticized move, which the United Nations has sought to reverse, has mobilized Muslims across the Middle East and beyond, and though protests have been low-key, the issue has the potential of reinvigorating the famed but recently dormant "Arab street." Lebanon is of special significance because it is Israel's neighbor and staunchest enemy.
Children caught in a regional quest for power
Ensnared in this web of geopolitics are children like Ali. He may not know or understand any of this, having just begun school and barely able to read, let alone have a political understanding of a highly complicated region. But at a tender age he has been taught to unquestioningly identify his enemy and call for his death.
Ali and children like him repeat their parents' slogans as they follow the voice emanating from the speakers installed on the rally's route. All demand the death of Americans, Jews and Israelis who they have never spoken to or met.
Stopping for snacks and clicking selfies, the afternoon doubles as a picnic, a day out dedicated to normalizing hatred for "the other." The impact on children is ignored, or is, in fact, the point. They are being initiated into the ways of Hezbollah, the Party of God, and for a six-year-old it is a ritual as much as anything else. "Jews and Americans are my enemy," he said, when asked why he spoke as he did. He looked up at his mother for confirmation.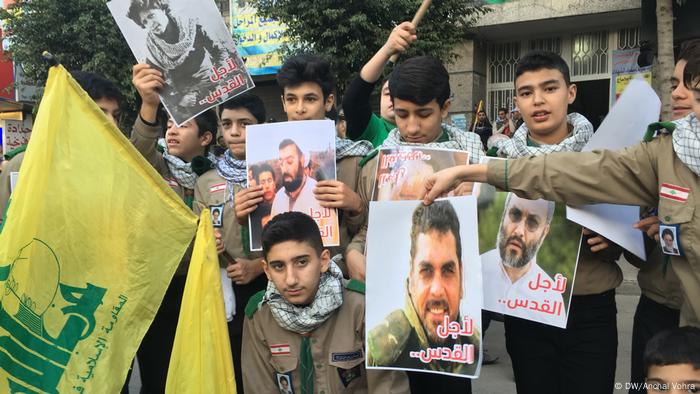 Young Lebanese adherents of Hezbollah in Beirut protesting Trump's Jerusalem announcement
Hezbollah's boy scouts
A short distance away, a group of boys were waving Hezbollah's yellow flags and holding the pictures of fighters killed in the Syria and Iraq wars. They are wearing green uniforms with checkered scarves. "We are Hezbollah's boy scouts," said one, Abbas.
Oversized badges of the Ayatollah Ruhollah Khomeini, Iran's revolutionary leader, and pioneer of the Iranian philosophy of "Death to America" are pinned to their shirts. The boys call themselves the next generation of Hezbollah fighters. "We all want to fight for Hezbollah one day, Inshallah," Abbas said.
Every summer, children spend weeks at Hezbollah's camps learning basic fitness, some fighting techniques and Khomeini's religious doctrine. Their goal is to make it to the ranks of fighters and protect the "family of Imam Hussain" — the grandson of the Prophet Muhammad, whose followers broke away to form the Shia sect — anywhere in the world.
The training is also dedicated to making "better Muslims," something they will prove in their fight against Israel. At least, that is Hezbollah's message and that is what the boys believe. "I want to crush Israel under my feet," Abbas said, stomping them to demonstrate.
He is 14, and was an infant when Israel and Lebanon last went to war in 2006. His anger towards Israel is borrowed, yet he is determined to become a Hezbollah fighter when he grows up so he can protect Lebanon from "Israeli aggression."
Asked whether he would consider joining the Lebanese instead, he replied: "The Lebanese army is for Christians and Sunnis. Hezbollah is the real army of Lebanon and very strong."
Hezbollah may be designated as a terrorist organization by the US, but in Lebanon it is a formidable force. For many Lebanese, especially the Shias, it is the Party of God which protects them not just from Israel, but from Sunni jihadi movements like the "Islamic State" and al-Qaida.
But Abbas has no idea that during the civil war in the 1980s, Shias in the south of Lebanon initially welcomed the Israelis to protect them from the Palestinian Liberation Organization (PLO), which was Sunni and fighting the Shia. He is also unaware that the call "Death to America" was imported in Lebanon from Iran through Hezbollah and that even if the group is fighting "for Lebanon" it is ultimately furthering the Iranian cause.
Lessons from the past
Veterans of Lebanon's 16-year civil war say that children like these are falling into a trap.
Ziad was 12 when he first picked up a gun in the 1970s. He calls it criminal to brainwash children and prepare them as cannon fodder for geopolitical wars. "Whether Hezbollah, Israelis or Americans, they are indoctrinating the children when young to turn them into killing machines," he said.
As a former child soldier, Ziad says he feels the pain of the children being politicized in Dahiya, and compares them to the Hitler Youth of World War II. "If God gave me one wish, I would ask for my childhood, my teenage years back," Ziad said. He now gives lectures about his experiences and sense of loss, in the hope that the next generation might learn something from them.
Judging by 21st century Dahiya, it is a forlorn hope. A new generation of Zaids, Alis and Abbases are being taught that childhood is a time to prepare for the next war.