The sun, the sea, the refugees. It's no wonder hoteliers on the forefront of Europe's lingering refugee crisis are turning down requests by aid and humanitarian organizations to rent rooms to accommodate asylum-seekers continuing to stream into Greece from neighboring Turkey.
With the peak tourism season about to set in and Greek travel associations forecasting record arrivals this summer, hoteliers on the scenic and sun-kissed island of Chios say they are wary of renting rooms to refugees, trying, instead, to claw back thousands of vacationers and rid the island's image of a landing zone for bedraggled refugees.
"This stance isn't motivated by racism or hatred towards foreigners," said George Misetzis, president of the island's estimated 100 hotel owners. "If anything our local community as a whole has been very receptive and supportive of these people and their tragedies."
"But we have to reclaim our top-selling product: tourism," he said.
The move comes as the Greek state and the United Nations' refugee agency (UNHCR) embark on a new and ambitious plan to relocate asylum-seekers from squalid, overcrowded camps to host families and housing units, including hotels. The scheme follows fierce criticism waged against the Greek government for its failing refugee accommodation and worse yet, for leaving asylum-seekers to "freeze to death," when the continent was gripped by a deadly cold snap earlier this year.
"Urgent and emergency action was needed," said UNHCR spokesman Boris Cheshirkov. "Hotels were the first option."
Read: Athens Documenta: A place for the displaced at the Acropolis
To support the new accommodation plan, authorities have since then amended legislation, allowing asylum-seekers to move to the mainland. More than 12,000 refugees and migrants remain trapped on five Aegean islands, including popular holiday destinations like Chios, Lesbos and Kos, following a landmark European Union migration deal that kept them confined in detention camps pending review of their asylum requests.
On Chios alone, a total of 175 asylum-seekers, classified as vulnerable cases, have been moved into 44 housing units on the island. What's more, a first batch of about 50 were also shipped to new accommodation facilities on the mainland last week, according to a UNHCR spokesman.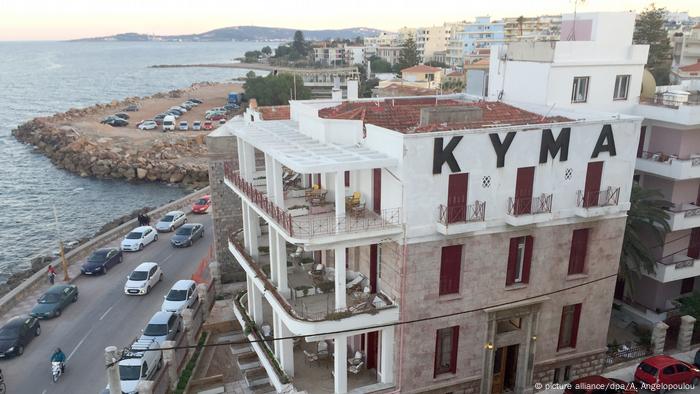 Hoteliers want to shake the image of Greece's holiday spots as destinations for asylum-seekers
Still, with refugees continuing to arrive on Chios' shores, the global agency reported that it was looking for at least another 60 housing sites on the island.
Greece hosts about 9,550 hotels with as many as 40,000 rudimentary room-and-board hostels sprinkled across its mainland and islands, operating during the summer season only
"The camps on Chios are already teeming with people. They have exceeded their capacity," said Cheshirkov. "But even if that were not the case, the working assumption of the new accommodation scheme is that some of these people will inevitably have to stay here and integrate within local communities."
"We are past the emergency [refugee crisis phase]," he said. "We're well into the post-emergency phase. And it will take time and a great deal of investment for integration to take place."
Tourists put off by refugees
The task is daunting.
Although record daily inflows of as many as 10,000 people in 2015 have dropped dramatically over the past year, local communities are still reeling from the fallout of the refugee crisis.
Read: Greek extremists go abroad for training in revolution
Small but vocal and at times violent opposition groups have sprouted nationwide, stoking passions among far-right nationalists who want to keep the country clear of foreigners and Muslims. Meantime, recurring scenes of violence, protests and crime blamed on young men from abroad have dealt a devastating blow to local economies on Greece's eastern Aegean islands, tarnishing their reputation as serene, sunny holiday destinations.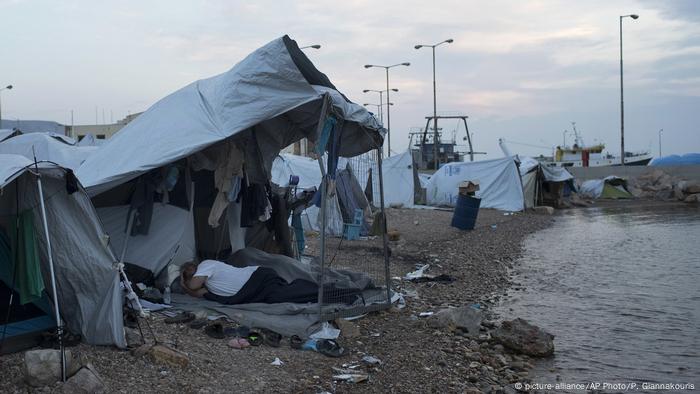 The camps are due to be closed as asylum-seekers are moved elsewhere
"Let's be serious," says Misetzis, "which traveler and which visitor will book a holiday at a hotel, or other accommodation, knowing that a family of Muslim refugees is being housed right next door?"
"I've lost count of the times I've seen tourists move out of an establishment just because of that. When you're on holiday and you've planned a trip for months, the last thing you want to see are scenes of human suffering around you. Or waking up to the sound of Muslim prayers by the families hosted next door to you."
Chios' struggling hoteliers estimate a 50 percent drop in stays over the summer, forcing many of the island's small-scale hostel owners to drastically cut down costs and expenditures. Losses reached a crippling 80 percent last year, forcing some owners to shed their money-losing digs altogether, dealing a devastating blow to the local economy.
Read: Refugees in Greece - 'The misery is still real'
On the neighboring island of Lesbos, opposition to the accommodation scheme grew so intense that in April, authorities and the UNHCR vacated hundreds of refugees from an estimated 300 hotel rooms, relocating them either to the mainland or apartments or camps on the island.
"It's high time we get back to business," said Pericles Antoniou, president of Lesbos' hoteliers association. "It's high time for other local communities to starting bearing some of the burden that we shouldered entirely, for years now."
Last month, local communities on Crete, among the country's most popular holiday destinations, agreed to join in the UNHCR accommodation plan. It remains unclear how many units will be leased and how soon the project will kick off. Hoteliers, however, have already opted out.