Chancellor Angela Merkel arrived for a reception with Queen Beatrix on her one-day visit to the Netherlands, before going on to meet the country's Prime Minister Jan Peter Balkenende.
The two leaders agreed there should be tougher sanctions against euro zone countries such as Greece, which face default on their finances.
This was the only way, Merkel said, that agreements on fiscal stability would be properly respected.
"We both agree that the growth and stability pact's sanctions are not yet sufficient," said Merkel. "We have to consider, and this is most important, how we can make the pact valid for everyone."
Merkel congratulated the Greek government for having taken "serious and courageous" steps in the right direction, taking responsibility to emerge from financial turmoil.
"The confidence of the markets in the euro and in the Greek euro will be restored only if Greece does its homework," she said

Fragile coalition
The trip came three weeks after the Netherlands coalition government between Balkenende's Christian Democrats and the country's Labor Party came to an end in a dispute over military action in Afghanistan.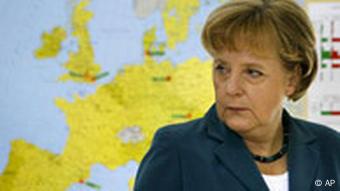 Merkel said that fiscal stability in Europe must be respected
Balkenende remains Prime Minister as leader of a minority government with the small Christian Union party. However, a majority of the parliament was not willing to back an extension of the Dutch mission to Afghanistan and a withdrawal of 2,000 troops is scheduled to take place in the summer.
'Close, problem-free relationship'
After their meeting, the leaders stressed that there had been "close" and "problem-free" relations between their countries for many years.
The Dutch Prime Minister said that he was confident that the Netherlands could offer renewed involvement in Afghanistan after parliamentary elections which have been brought forward to July 9.
rc/dpa/Reuters/AFP
Editor: Rob Turner