"Cool." "Absolutely!" These were the common refrains from the Chancellor during her YouTube interview with LeFloid - aka Florian Mundt. The 27-year-old had arrived at the Chancellor's office with a pile of questions suggested by his mass of online followers, prompted by the viral hashtag #NetzFragMerkel - or Net Asks Merkel. The hashtag would soon go viral, hitting the top three German Twitter trends in the week leading up to the interview.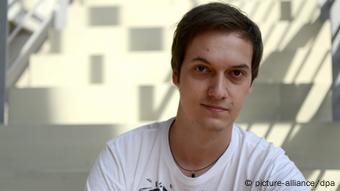 LeFloid has 2.6 million YouTube subscribers
LeFloid is a certified - albeit unorthodox - star in Germany. His videos on YouTube tackle familiar topics such as the euro crisis, but with LeFloid's trademark irreverence and youthful point of view, making him extremely popular amongst Germany's younger generations.
While LeFloid chose a small selection of suggested topics to discuss with Merkel for the interview, which took place on Friday, rolling tweets were also displayed during the video, which aired Monday. LeFloid carefully (and somewhat respectfully) crafted and worded his questions, while still broaching uncomfortable topics such as the NSA scandal, xenophobia on the Internet and, of course, the Greek debt crisis.
NSA and gay marriage
Whoever was expecting hard-hitting questions and a sensational confrontation between LeFloid and Merkel, however, would have been disappointed. LeFloid obediently stuck to the script, as Merkel echoed her regular positions on topics such as gay marriage - repeating that, "For me, personally, marriage is the coexistence between a man and a woman." But, unsurprisingly, adding, "But wherever we still see discrimination, we will challenge it further."
From here LeFloid had very few hits against the Chancellor - getting the usual appeasing lines regarding the NSA scandal and a categorical "no" to the legislation of cannabis. Publicist and viewer Gunnar surmised the general public sentiment by expressing frustration at the unusual lack of aggressiveness from LeFloid.
German comedian Jan Böhmermann offered an ironic jibe in saying "traditional" journalists could rest easy after the interview, while net activist and blogger Markus Beckedahl (@netzpolitik) openly criticized LeFloid, saying "very cool" was hardly a suitable retort to Merkel's evasive answers.
Other viewers, however, lauded the YouTube personality for the simple coup in interviewing Merkel, with one saying it was "mega interesting."
It is not the first time the Chancellor has used the internet to target younger audiences, having regularly held online Q&As - and, as she proudly told LeFloid, she once took part in a Google Hangout.
Watch the German-language interview in full here: