In a plan called "Fördern und Fordern," roughly translated as "Encourage and Demand," members of the Christian Democratic Union (CDU) have laid out rules to determine whether asylum seekers coming to Germany could remain there for an unlimited period.
According to the plan, refugees would have certain rights but would also need to fulfill certain obligations during their stay in Germany. Anyone not following the guidelines would be sent back to their home countries, the paper proposed.
According to the plan, refugees being registered for the first time would receive a starter package with information in their mother tongue and with pictures explaining laws and the value system in German society. The registration centers would also offer classes in basic German with a test at the end of the course to check the learner's proficiency.
Refugees would be able to enroll into universities and planners would look into job opportunities for those without formal qualifications, the CDU said.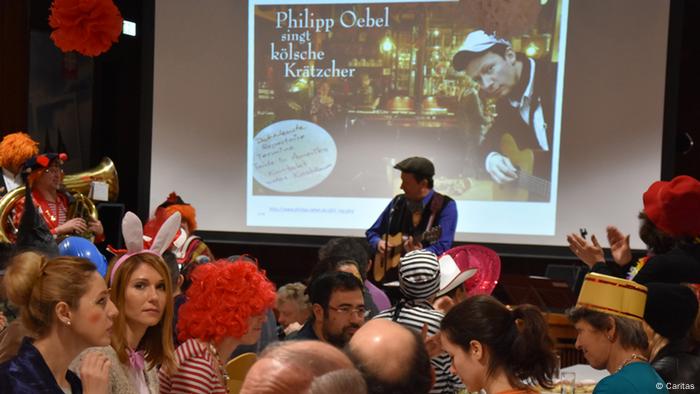 Refugees in Cologne were introduced to German culture and values before carnival celebrations began earlier this month
CDU members made it clear in their paper that anyone who did not need protection would have to leave Germany. For refugees who chose to stay, the paper had this message: "Integration comprises encouraging and demanding. It is an offer but also an obligation to personal endeavor."
Refugees committing crimes would be limited to staying within a certain radius of a location and also be subjected to "house arrest," the plan said.
Points of contention
The proposal also modified regulations on minimum wages for refugee workers, which have become a bone of contention with the CDU's coalition partners, the Social Democrats (SPD). According to the new proposal, companies could pay salaries below the minimum wage limit - currently 8.50 euros per hour - only if they employed refugees in internships.
The SPD had earlier said that failing to keep up minimum wage commitments in the case of refugees could cause unnecessary competition and conflict with ordinary citizens doing similar jobs.
The Social Democrats also criticized their coalition partners for refusing to name a sum to fund refugee integration. "Anyone who speaks of integration, but is silent about the finances, is lying to the public," SPD chief and Deputy Chancellor Sigmar Gabriel told party members in Mainz on Monday. The Social Democrats have also agreed on a separate integration plan for asylum seekers.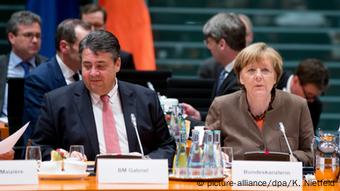 Coming to an agreement : Chancellor Merkel with her deputy, Sigmar Gabriel (left)
Refugee numbers receding
Meanwhile, German Chancellor Angela Merkel announced a reduction in the number of migrants coming to Germany. "The number of refugees is going down," she told German daily "Stuttgarter Zeitung." One of the reasons was the cold winter weather, but there were other factors responsible for the slowdown, such as Germany's cooperation with Turkey, she said.
"Together, we want to reduce illegal migration," Merkel told the newspaper. She added that in return, Europe would have to be prepared to take in refugees legally, following discussions with Turkey. The German chancellor also spoke in support of a friendly attitude towards people seeking refuge: "We need to see each person who comes to us, the human, in the entire context of his destiny."
mg/kms (AFP, dpa, Reuters)