The Federal Office for Migration and Refugees (BAMF) was informed about possible improprieties in the approval of asylum applications at its branch in the northern city of Bremen earlier than it admitted, German media reported on Monday.
The news magazine Der Spiegel reported that emails it had seen suggested that BAMF head Jutta Cordt had received internal information regarding "massive irregularities" in Bremen as early as February 2017.
Broadcaster NDR and the daily Süddeutsche Zeitung also reported on internal emails allegedly showing that BAMF headquarters knew about questionable procedures at that time but were reluctant to look into the matter.
They quoted an email from the responsible department head in which he called for an examination to be carried out "without fuss" and without too much detail.
On Friday, Cordt gave an account of internal investigations into the Bremen affair to the domestic affairs committee in the German parliament, but did not mention the correspondence of February 2017, the reports said.
Read more:Illegal African migration to Germany: What can and should be done
BAMF denial
BAMF has rejected the media claims.
"The head of the federal office did not receive the mail stating that everything should not 'be examined in detail' and where the words 'without fuss' occur," a spokesman said on Sunday evening in the Bavarian city of Nuremberg, where BAMF headquarters are situated.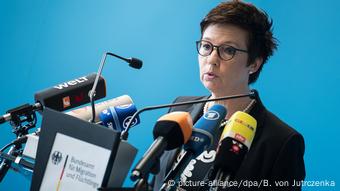 Cordt is under pressure over the Bremen affair
He said Cordt had received only an "original mail" to a department head about examining and possibly revoking asylum decisions made in Bremen.
The information had been acted upon without delay and decisions had been revoked whenever necessary, he said.
Read more: When refugees want to work in Germany
Possible bribes
In April, Bremen's prosecution service announced that a former official at BAMF's Bremen branch was under investigation over allegations that she, along with four others, had taken bribes in exchange for granting asylum to some 1,200 refugees between 2013 and 2016, although the refugees did not meet the necessary criteria.
BAMF head Cordt said on Friday that some 18,000 asylum decisions made in Bremen since 2000 were now to be checked over the next three months.
The agency is also to subject several other branches to scrutiny after deviations of up to 10 percent in the number of approvals or rejections of asylum applications were discovered there.
Read more: German Cabinet approves new refugee family reunification law
Public mistrust
The allegations of possible irregularities in the approval of asylum applications come as public confidence in BAMF is at a low ebb, according to a Civey study published in the Die Welt daily on Monday.
Just under 9 percent of those asked said they had "very high" or "fairly high" confidence in asylum decisions taken by the agency, while some 80 percent categorized their trust as "fairly low" or "very low."
Although the general lack of trust was common to supporters of all political parties, it was most prevalent among those who backed the anti-immigration Alternative for Germany (AfD) party (97.9 percent), the Free Democrats (87.1 percent) and Chancellor Angela Merkel's conservative CDU/CSU bloc (80.8 percent).
The study also found that people had less trust in BAMF the older they were.
Read more: Study: Asylum seekers' chances of staying in Germany vary dramatically by state
tj/kms ( dpa, KNA, AFP)
Each evening at 1830 UTC, DW's editors send out a selection of the day's hard news and quality feature journalism. You can sign up to receive it directly here.