On Friday Hans-Georg Maassen, the head of Germany's domestic intelligence agency (BfV), said that in the past year or so, Russia had launched attacks against the German parliament, NATO members and French TV.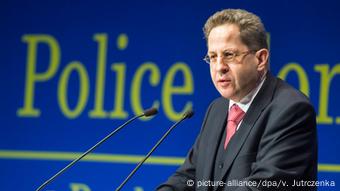 Hans-Georg Maassen, head of the BfV
"Cyberspace is a place for hybrid warfare," Maassen said. "It opens a new space of operations for espionage and sabotage.
"The campaigns being monitored by the BfV are generally about obtaining information, that is spying," he said. "However, Russian secret services have also shown a readiness to carry out sabotage."
Germany's lower house of parliament was attacked last year by a phishing tool named Sofacy, which is used by a Russian-based group called Pawn Storm. The hackers apparently wanted to steal personal and corporate data from the Christian Democratic Union (CDU), and high-profile individuals, according to Trend Micro, a security research firm.
The CDU is Germany's leading political party, which is headed by Chancellor Angela Merkel. The attack also reportedly affected a computer in Merkel's legislative office. The attack appears to have been an attempt to get Germany to abandon its support for Ukraine.
Going after Russia's enemies
Pawn Storm is believed to either have ties to the Russian government or be a part of it.
These "cyberattacks carried out by Russian secret services are part of multi-year international operations that are aimed at obtaining strategic information," Maassen said. "Some of these operations can be traced back as far as seven to 11 years."
In the realm of sabotage, Sofacy is also believed to have brought down part of Ukraine's power grid last year.
Pawn Storm is dedicated to going after the Kremlin's real or imagined enemies, including the US government and its military, as well as NATO and governments in eastern Europe and Turkey, according to multiple cybersecurity experts.
"Pawn Storm clearly targets groups that could be perceived as a risk to Russian politics and interests," according to Trend Micro.
The cyberwarriors also hit France's TV5 Monde television channel in April 2015, forcing it off the air and placing jihadist propaganda messages on the station's website and social media accounts.
So far the CDU computers have not been breached, according to one official in Berlin, who spoke on condition of anonymity. But, he said, they aren't taking any chances.
"We have nonetheless made appropriate changes to our IT infrastructure," he said. "We can't say anything on the reasons for this."
bik/kms (Reuters, AFP)