The decision has been taken, now the details are being finalised. The European Union's foreign ministers have officially agreed to send a military mission to the Central African Republic (CAR). Military planning is now well under way for the deployment which is due to begin in a few weeks time. Two German government ministers have been in France to clarify the German role in the mission.
On Monday (20.01.2014) the German Federal Defense Minister Ursula von der Leyen met with her French counterpart, Jean-Yves Le Drian. A day later Foreign Minister Frank-Walter Steinmeier was received by Laurent Fabius.
Support yes, but no combat troops
Former colonial power France, which has deployed 1,600 troops in the Central African Republic to support a 4,000-strong African force, has for some time been calling for a stronger European military commitment in the country. However, in December German Chancellor Angela Merkel had categorically ruled out any deployment of a combat mission to the country.
Foreign Minister Steinmeier was full of praise for French efforts so far. "We Europeans and neighbors should be grateful that the French have taken steps to prevent things getting worse," he said.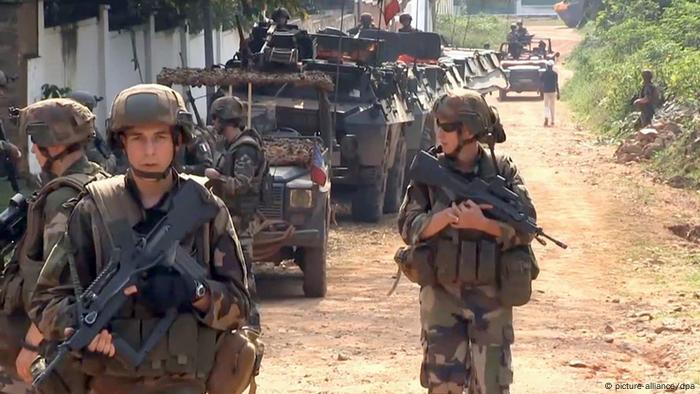 Since December, France has deployed 1,600 troops in the Central African Republic
Fighting between Muslim and Christian militias has raged in CAR ever since Muslim Seleka rebels staged a coup in March 2013. More than half of the approximately five million Central Africans are now dependent on humanitarian aid and hundreds of thousands have fled the fighting. The United Nations has warned of genocide in the Central African Republic if the international community does not step up its response.
The EU is planning to send a further 500 to 1,000 soldiers to support the French and African troops on the ground. But the German government refuses to send combat troops. Foreign Minister Steinmeier and government spokesman Steffen Seibert have both stressed that Germany will not participate in a combat mission in the country.
With the exception of its involvement in Afghanistan, the federal government has stuck to its line where recent military missions are concerned. Since 2011, when Germany angered its closest allies by abstaining from a vote on military intervention in Libya, Berlin has provided logistical support for other countries taking part in UN and EU missions, including in the Central African Republic.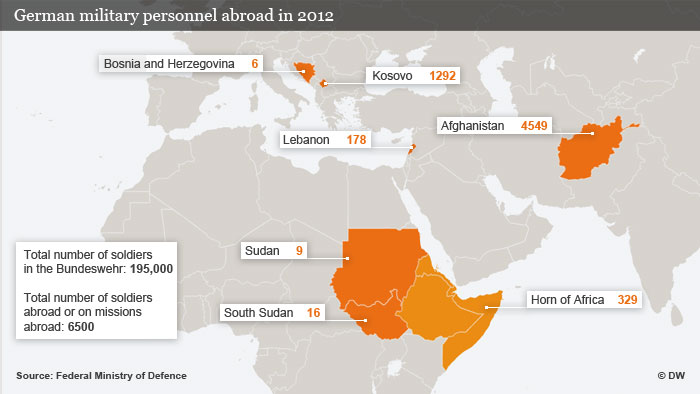 Little interest in Germany's offer
Defense Minister von der Leyen set out plans to provide transport and medical care. "These are certainly areas where our help is needed and we can deliver without further ado," she said. However, in practice, little interest has been shown so far in the German offers of help. The federal government had previously offered the French logistical support., as well as transport for troops and equipment to CAR's neighboring countries. According to a defense ministry spokesman, the French have not taken up this offer. However, the two sides are said to be in close contact.
The fact that Germany is not sending combat troops to Central African Republic is not regarded as a problem by its international allies. A foreign ministry spokesman clarified that there has been no request to Germany to send combat units to the Central African Republic.
Helping France shoulder the burden
"Whoever wants to move European security policy ahead – and this is what we Germans want – cannot leave the the French on their own," said the defense spokesman of the Social Democratic party (SPD), Reiner Arnold.
It seems that, in order to give France a helping hand, some sort of exchange is being considered. To make it possible for France to send additional troops to the Central African Republic, the German Bundeswehr will step up its commitment in Mali. This is where Germany could provide greater help, according to Foreign Minister Steinmeier.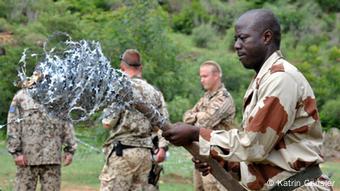 Germany may extend its training activities in Mali
France has been active in Mali since January 2013 with an offensive mission to push back rebels who had taken control of the north. The Bundeswehr has been present in Mali since Spring 2013, with a mandate to train Malian forces (as part of the European Union's EUTM mission) and also to provide the United Nations Stabilization Mission in Mali (MINUSMA) with air transport and refueling.
170 Bundeswehr soldiers are currently stationed in Mali. If their training mission were to be extended, the Bundeswehr could send in more soldiers who could take over security duties in the capital Bamako and at the training camp in Koulikoro.
Christian Democratic (CDU) parliamentarian and foreign policy expert Roderich Kiesewetter thinks it would be right to extend the Bundeswehr mission in Mali. "The EU intervention has stabilized Mali. Now it's time for us ease the burden of our French partners, who want to deploy in the Central African Republic, together with other EU forces," Kiesewetter told DW.
This could be decided on in the coming weeks when the Bundestag debates an extension of the mandate for the mission in Mali which runs out at the end of February.