Thousands of people in the Bavarian capital, Munich, gathered on Sunday to demonstrate against right-wing populism, in a rally that was a direct rebuke of the ruling Bavarian party Christian Social Union (CSU) for its immigration policies and stance.
Under the official slogans "An end to the incitement of hate" and "Together against the politics of fear," a large crowd assembled at the Königplatz square, an iconic cultural center of the city. A diverse group of organizations came together for the rally, including NGOs, political parties and church groups.
The demonstration follows a large protest in the Bavarian capital on May 5, where at least 30,000 people filled Odeonplatz square to express their rejection of a controversial legislative package put forth by the CSU that sought to widen police powers.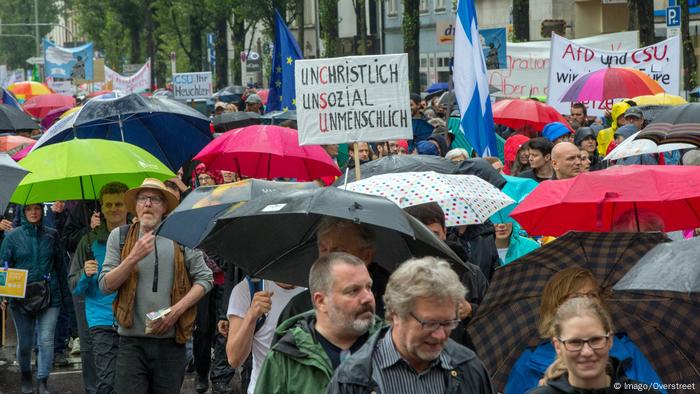 Demonstrators hold a sign spelling out CSU with the words "unchristian, asocial, inhumane."
Read more: Trouble in Bavarian paradise: Will the CSU's hard-line asylum strategy pay off?
Officials put the attendance of Sunday's anti-CSU rally at 15,000, with organizers saying that 18,000 showed up, despite the unrelenting rain in Munich. Protesters singled out CSU leaders Horst Seehofer and Markus Söder as instigators of an "irresponsible politics of division" at the national and regional levels respectively. Demonstrators also spoke out against CSU parliamentary party leader Alexander Dobrindt.
Organizers of the rally wanted to emphasize that the far-right Alternative for Germany (AfD) was not the only political organization that in their eyes promotes a politics of "exclusion and hate." Protesters were called on by organizers to put the spotlight on "a massive societal shift to the right, the surveillance state, [and] the restriction of freedoms and attacks on human rights" that they see as inherent to CSU policies.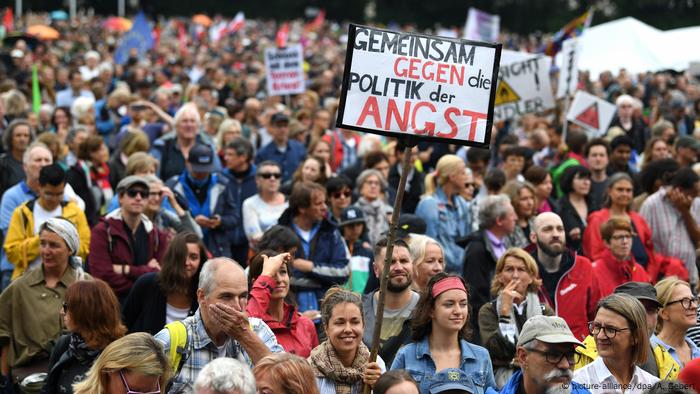 A woman holds the sign with the event's slogan: "together against the politics of fear."
Read more: The challenges of parodying CSU politician Horst Seehofer
CSU reacts
Shortly before the demonstrations began, the CSU defended itself and spoke out against Sunday's event.
In an official tweet, the CSU said "Bavaria will not be filled with hatred," turning the accusation of inciting hate against the organizers of the event. The Bavarian ruling party said that it rejected "political agitation" and made calls for political decency. "The people in Bavaria know what they have with the CSU," the tweet added.
After a weak showing in the 2017 parliamentary elections and with an eye on the upcoming Bavarian regional elections in October, the CSU has taken a more hard-line approach to immigration enforcement, and its leaders have attempted to harness the sensitive politics of German identity to their purposes.
jcg/tj (epd, dpa)
Each evening at 1830 UTC, DW's editors send out a selection of the day's hard news and quality feature journalism. You can sign up to receive it directly here.