German Defense Minister Ursula von der Leyen said in a statement on Sunday that "there is no account where debts are registered with NATO," responding to accusations by US President Donald Trump that the Berlin government was in debt to the military alliance.
The German defense minister also questioned how military spending was calculated, arguing that a country's financial commitment to the military alliance shouldn't be the only measure.
On Saturday, Trump tweeted that Germany owed NATO "vast sums of money," just hours after meeting German Chancellor Angela Merkel in Washington for the first time since taking office.
US demands more cash
The billionaire added that Washington "must be paid more for the powerful, and very expensive, defense it provides to Germany."
Since he began his campaign for the US presidency, Trump has regularly used Twitter to make sweeping and contentious remarks in which he outlines changes of direction in domestic and foreign policy. But the lack of clarity often leaves other politicians and world leaders guessing.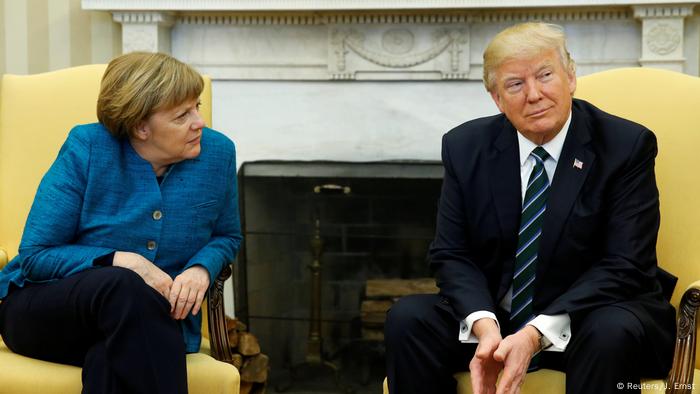 ​ ​
During the two leaders' talks, Merkel had already reiterated her government's commitment to increasing military spending to 2 percent of gross domestic product (GDP), a target NATO member states formally agreed in 2014 to reach within 10 years.
Just five of the 28 NATO members currently meet the spending commitment. Germany currently spends 1.2 percent of GDP and remains reticent on defense matters due to its wartime past.
Von der Leyen on Sunday insisted that NATO spending should not be the only criteria used to measure Germany's military efforts, a veiled reference to its peacekeeping efforts in several countries and participation in the US-led fight against the "Islamic State" (IS) armed group.
She said that in future, the Berlin government's larger military budgets would go not only toward the overall cost of running NATO and its operations, but also be earmarked for Germany's involvement in United Nations and European Union peacekeeping missions.
Holistic approach needed
Meanwhile, in an interview with the "Rhein-Neckar-Zeitung" newspaper to be published on Monday, Germany's Foreign Minister Sigmar Gabriel also hit back at Trump's comments.
"A sensible security policy is not just buying tanks, driving defense spending to insane heights, and escalating the arms race," he told the regional daily.
"A reasonable policy means crisis prevention, stabilization of weak states, economic development and the fight against hunger, climate change and water scarcity," Gabriel added.
Gabriel has already warned of the dangers of a new arms race with Russia.
mm/tj (AFP, dpa)