"What's happening there is weakening Russia and is particularly detrimental to its claim to be a world power," Andreas Schockenhoff, Germany's commissioner for German-Russian coordination, said about the Russian raids this week on non-governmental organizations. On Tuesday (26.03.2013), authorities from the Russian public prosecutor's office searched Germany's Konrad Adenauer Foundation (KAS) in St. Petersburg and the Friedrich Ebert Foundation (FES) in Moscow, confiscating its computers and documents.
"Russia is hurting itself"
Two more raids on German political foundations and institutions planned for Thursday were cancelled following international criticism of the Russian authorities' earlier actions. According to Johannes Ebert, secretary general of the German cultural Goethe Institute, Russian officials dispensed with a planned search of the Goethe Institute in Novosibirsk. Authorities have also said searches of the KAS office in St. Petersburg have stopped, and the foundation's computers have been returned, said a KAS spokesperson in Berlin.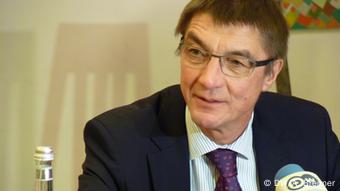 Schockenhoff was upset over the raids and their effect on Russian civil society
Schockenhoff, however, said he was outraged over the capriciousness of the Russian authorities. "The officers who confiscated the computers and documents didn't even know why they were there," Schockenhoff said.
Despite the situation having now tentatively settled down, Schockenhoff said he is still skeptical. He said Russia treats even its own citizens as if they were a threat, and that has disastrous consequences.
"The fact that agents from the public prosecutor's office pay visits to thousands of non-governmental organizations and investigates them goes to show that its population is supposed to be intimidated," Schockenhoff said, adding that it represents an attempt by authoritarian leadership to wield absolute control.
Russia, for its part, has defended its searches of NGOs. They were warranted in an attempt to weed out underground organizations and combat corruption and money laundering, a spokesperson of the Russian public prosecutor's office said.
Nonetheless, Schockenhoff encouraged German political foundations and institutions to continue their work despite the Russian attempts at intimidation. "Now is precisely the time to stay in contact with those who are being bullied and reprimanded," Schockenhoff said.
German-Russian relations compromised
The German government has meanwhile sharpened its tone with Russia. "Our foundations and their partners in Russian society play an important role in the development of German-Russian relations," German government spokesman Steffen Seibert said this week. "Measures that impair their work or criminalize them damage our relations.
"We expect that the tried and tested work of German political foundations in Russia can be continued without impairment," Seibert said. Russia is the only country in the world in which all six of Germany's political foundations maintain an office.
After the raids, the German Foreign Ministry met with representatives from the foundations to discuss the possibility of additional searches in Russia. On Tuesday, the Foreign Ministry also spoke with Russian envoy Vladimir Michailovitch Grinin about the searches, but no further details were given.
Claudia Roth, co-chair of the German Greens party, criticized the German government for being too hesitant with Russia. "Germany and the EU must be a lot more assertive with Russia in addressing the repression of NGOs and foundations," she said.
"Registry of foreign agents"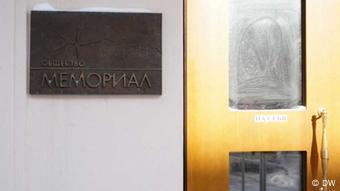 Human rights organization 'Memorial' has also been searched during raids
Russian authorities are said to be conducting raids on hundreds of NGOs in a concerted action over the past few days. The groups are said to include Russia's largest human rights organization "Memorial," the Moscow Helsinki Group and Amnesty International.
A recent Russian law requires all NGOs with foreign funding to register as "foreign agents." Critics of the law said it could be used to brand people as spies and would prompt further crackdowns.
According to German government spokesman Seibert, German Chancellor Angela Merkel intends to discuss the raids with Russian President Vladimir Putin. Putin will be in Germany at the start of April to kick off the "Hanover Trade Fair," for which Russia is a partner country.