In an interview with the Sunday newspaper "Welt am Sonntag," Wendt insisted that tough measures - like the construction of a fence along the border with Austria - were vital for the country "to carry out serious border controls."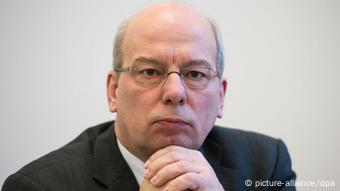 Rainer Wendt, Chairman of Germany's DPolG police union
He said the move would trigger a chain reaction in other European countries, which have seen hundreds of thousands of refugees from Syria and elsewhere flood over their borders.
"If we close our borders in this way, Austria will also close the border with Slovenia. That's exactly the effect we need," Wendt, the chairman of the German Police Union (DPolG), is quoted as saying.
He voiced support for Germany's plans to create temporary migrant transit zones along its border, which would see people filtered according to their likelihood of gaining asylum. But he said that would only work with a frontier sealed by a new fence.
The transit zone concept has been criticized by one of the German chancellor's main coalition partners, the Social Democrats (SPD), as inhumane and impossible to implement.
Wendt's comments contradict the German government's fierce condemnation of a similar 3.5 meter (11.5 foot) fence built by Hungary, along its 175 kilometer (108 mile) border with Serbia, to keep irregular migrants out.
The structure, which was finished last month, was accompanied by new draconian measures to punish anyone who tried to cross the frontier.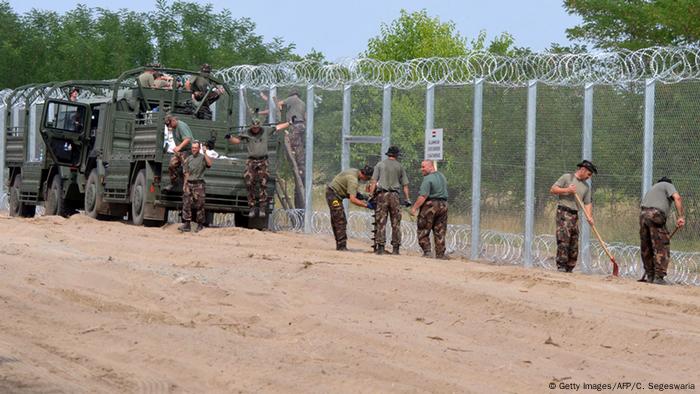 Hungary enlisted prisoners and the country's military to help construct a fence along its border with Serbia.
In a warning to Chancellor Angela Merkel, Wendt said Germany was facing "social unrest" due to the large number of migrants entering the country.
"Our internal (law and) order is at risk...Someone needs to pull the emergency brake now," he cautioned.
Germany expects more than 800,000 people to apply for asylum this year and has recently toughened its regulations surrounding the asylum process. But Merkel has ruled out placing limits on the number of refugees taken in, adding that she was convinced the country could cope.
The southern German state of Bavaria, which has been inundated with refugees crossing from Austria, has threatened legal action against the federal government, adding that it may consider sending migrants back across the border.
mm/se (dpa, Reuters)