Germany's ice hockey team slumped to a second straight shootout loss on Sunday at the IIHF World Championship, this time at the hands of Norway.
Marco Sturm's side never led in the contest and played the Norwegians to a 4-4 tie at the end of overtime. Matias Trettenes, Tobias Lindstrom and Anders Bastiansen all scored for Norway in the shootout while Germany missed all four of their attempts.
The Germans lost their opening game in similar fashion, falling to hosts Denmark in the shootout after the game finished 2-2.
"We are playing together as a team for the first time. It's not working yet, but the tournament isn't over," said German defenseman Yannic Seidenberg. "We can beat every opponent if we can put in a good performance on the ice. We are scoring enough goals, but we can't concede so many."
After earning the silver medal at the 2018 Winter Olympics in Pyeongchang in February, they now sit second bottom in Group B on two points after their two losses. They face group leaders the United States, who have five points from their two games, on Monday.
Playing from behind
Germany fell into a 2-0 hole seven minutes into the first period after goals from Ken Andre Olimb and Thomas Valkvae Olsen. But Patrick Hager put the Germans back within one with a power-play goal and Marc Michaelis fired in a terrific long-range effort on a break to level the score before the first intermission.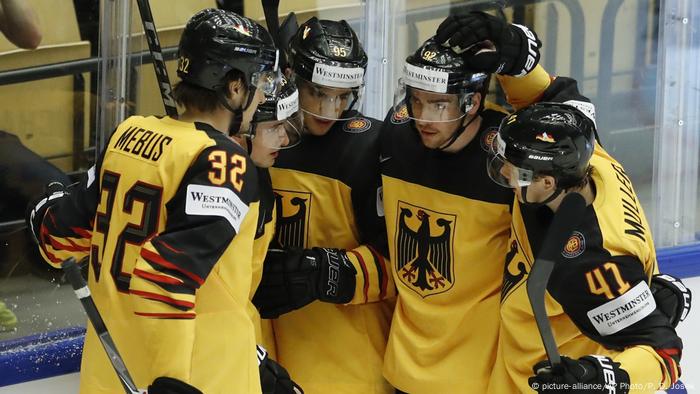 Germany celebrate Marc Michaelis' goal in the first period
Norway got off to another quick start in the second period when Bastiansen restored his team's lead less than two minutes after the break. Hager countered with another power-play goal after Olimb picked up a delay of game penalty.
Daniel Sorvik put Norway back in front with a deflected shot Timo Pielmeier probably should have saved. Luckily for the German goaltender, Yannic Seidenberg tied the game just 25 seconds later, firing the puck into the net after taking a Matthias Plachta pass from behind the net.
Germany were able to force a shootout despite playing the last two minutes of overtime shorthanded after a high sticking penalty from Leon Draisaitl. But, in the end, Nielsen's goal was all that Norway needed to secure the victory as Draisaitl, Michaelis, Dominik Kahun and Matthias Plachta all came up empty in their shootout attempts.