The German men's ice hockey team was less than a minute away from winning the Olympic gold medal in Pyeongchang. The Germans led the Olympic Athletes from Russia (OAR) 3-2 late in the gold-medal game, but the Russians crushed their dream, scoring the tying goal with just over 55 seconds left in the third period. They then went on to score the winner on the powerplay at 9:40 of overtime. Nevertheless, the Germans left the ice as Olympic silver medalists, something no German team before them could say. Speaking to DW, centerman Marcel Noebels, 25, looked back with pride on Germany's almost unbelievable tournament.
Read more: Russia beat Germany 4-3 to win gold medal in men's ice hockey
DW: Marcel Noebels, has what you achieved for German ice hockey in Pyeongchang sunk in yet?
Marcel Noebels: Not completely. I still think that what happened is hard to imagine. There are so many thoughts that shoot around in your head, not matter what time of day. But you slowly try to come down, to let things sink in and just appreciate them. What happened was sensational and unbelievable. Now I'm sitting here with a silver medal around my neck.
The team's performance has caused a bit of a hockey craze in Germany. How much of this were you aware of in South Korea, and did it help inspire the team?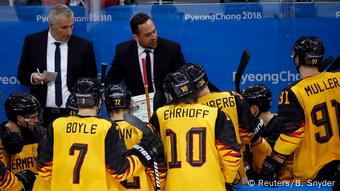 Germany head coach Marco Sturm addresses his team
I have to say that we didn't know much about what was happening in Germany. But when you see what was posted on social media, how newspapers and television reported on us, it is pretty impressive. The fact alone that around six million fans watched the final on television. Yeah, it was a winter fairy tale.
During the tournament, Germany faced some of the best teams in the World — Finland, Sweden, Canada and Russia. What made Germany so dangerous, and how much of a factor was team spirit?
I think we just found our way during the tournament. After the 5-2 loss against Finland, we knew that things couldn't go on like that. We came together as a team and found a way to play as more of a unit. We have terrific guys in the team. It was a lot of fun. We trained well and had lots of opportunities for team building. We were played as a team, and this virtue certainly helped us enormously.
Read more: Opinion: German hockey team's strong Olympics comes as no big surprise
Let's talk about the final. You were less than a minute away from winning the gold medal. What's it like to experience such an emotional roller coaster?
Just before the end of the game it did run through your head that we could actually win the gold medal. But we knew that in Russia we had a very dangerous opponent on the ice. They are capable of changing the outcome of those sorts of games in a matter of seconds. Unfortunately we experienced that first hand. It is of course bitter when you are so close that you can almost see the gold medal before you - and then you give up a goal right at the end.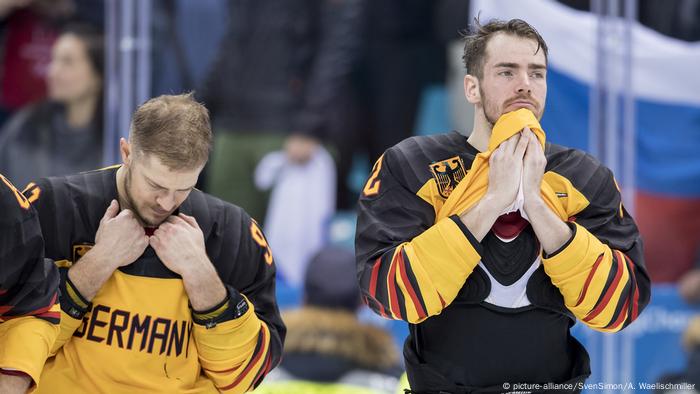 Marcel Noebels (right) couldn't hide his disappointmen after Germany lost the gold medal final
It hit me pretty hard. I think that you could see that. There are a lot of emotions involved, but in the end you are unbelievably proud of what you have just achieved.
Read more: Opinion: It's a Russian gold medal, even without the flag and anthem
What will this winter fairy tale now do for German ice hockey?
I hope that this sensational performance will have a deeper impact, that it doesn't simply fade away into memory. I hope that a lot of the children who watched the games, or whose parents watched, will now develop the desire to play ice hockey. This must be our goal. The current public perception is good for the sport. But if it leads to more kids getting interested in ice hockey, maybe we will not have to wait forever for the next winter fairy tale.
Marcel Noebels, 25, is a centerman for the Eisbären Berlin of Germany's top professional hockey league, the DEL. He was drafted 118ths overall by the Philadelphia Flyers of the National Hockey League in 2011. The native ot Tönisvorst in western Germany has made 53 appearances for the German national team since in 2011.
This interview was conducted by Des Squire.