Police are looking for clues after two homeless men were set on fire at the Schöneweide suburban train station in Berlin late Sunday night.
Shortly before midnight, the two men were doused in a flammable liquid before being set on fire. Their shelter and belongings were burned as well.
The victims, ages 47 and 62, were rushed to the hospital with life-threatening burns, police said. One of the victims has been put into a medically-induced coma, a spokesman at the hospital said on Monday.
People walking by noticed the blaze and were able to put it out using a fire extinguisher from a nearby snack shop, the German daily Bild reported. A police spokesperson was unable to confirm the reports to news agency dpa.
Homicide detectives have taken over the case and are investigating for attempted murder.
Authorities said the motive behind the attack remained unclear.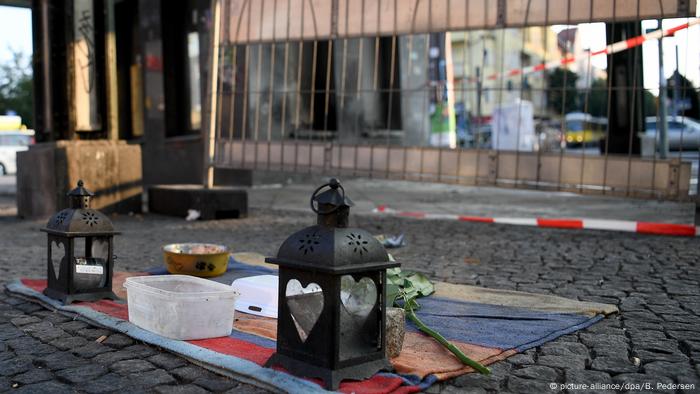 Locals set up a makeshift memorial for the two men who were attacked
Homeless targeted in Germany's capital
Similar attacks on Berlin's homeless population have sparked outrage across Germany in recent years.
In 2016, a group of youths attempted to set a sleeping homeless man on fire in Berlin's Schönleinstraße subway station. People getting off a train were able to put out the fire and prevent it from spreading.
The main suspect and group ringleader was sentenced to two years and nine months in prison. Three others in the group were convicted as juveniles and were given eight-month suspended sentences, while another three group members were ordered to spend several weeks in a youth detention center for not helping the man.
There are between 4,000 to 10,000 homeless people in Berlin. Aid organizations estimate that some 860,000 people across Germany are without a home.
rs/rc (dpa, AFP, AP, epd)