The state court in Berlin convicted a group of young refugees from Syria and Libya on Tuesday who attempted to set fire to a sleeping homeless man at a subway station on Christmas last year.
The oldest of the group, a 21-year-old Syrian man, was sentenced to two years and nine months in prison.
Prosecutors previously argued that the man purposefully set fire to several objects near the slumbering homeless man's head, thereby "acknowledging and accepting" that he could have burned to death.
The 21-year-old suspect admitted to setting fire to a tissue and placing it close to the man's head, but argued that he only wanted to "startle" him.
The Berlin court dismissed the prosecutor's bid to convict on a charge of attempted murder, but sentenced the 21-year-old ring leader for attempted grievous bodily harm.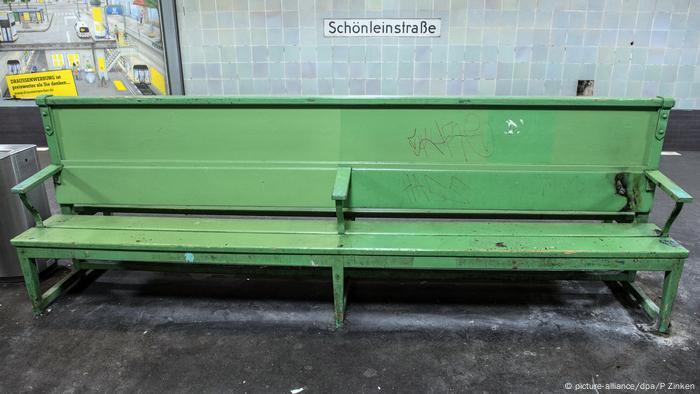 Scorch marks could be seen on the bench where the man was sleeping in the Schönleinstrasse subway station
Teens convicted as accessories
Three others in the group, aged between 17 and 18, were convicted as accessories and given eight-month suspended sentences. Two other young men, ages 16 and 19, were given four weeks in a youth detention center and community service for failing to help the victim. In Germany, passers-by are legally obliged to assist people in distress if they're first on the scene, for instance at a road traffic accident.
The seventh suspect, a 17-year-old, was previously sentenced to two weeks of juvenile detention for not helping the man. The young men came to Germany as refugees between 2014 and 2016, several of whom entered the country as unaccompanied minors.
Subway passengers put out flames
In the early hours of Christmas day last year, the group set fire to objects near the head of the man who was sleeping on a bench in Schönleinstrasse subway station.
Passengers on an incoming subway train were able to put out the flames and the 37-year-old man from Poland was not injured. However, all of his belongings were destroyed.
The crime sparked outrage across Germany last year and stirred anti-migrant sentiment, as police released footage of the suspects two weeks after Tunisian asylum-seeker Anis Amri plowed a truck into a Berlin Christmas market, killing 12 people and injuring almost 50.
rs/msh (AFP, dpa)