The foreign minister, who made his remarks in an newspaper interview, said China and Tibet should find common ground to avoid more bloodshed.
"The (German) government is telling the Chinese very clearly: make sure that there is transparency! We want to know exactly what is happening in Tibet," Steinmeier told the mass circulation Bild newspaper in an interview published Saturday.
"China is hurting itself if it stops foreign observers from getting an idea of the situation."
Steinmeier said window-dressing for television was no longer doing it for the outside world "when chaos is reigning in the backyard."
"He who organizes Olympic Games today must let thousands of journalists into the country," he added. "Nothing can be hidden."
China has sealed off Tibet from foreign reporters and tourists, while releasing images and television footage of violent Tibetans.
Weekend talks
Steinmeier said he would speak to his Chinese counterpart over the weekend and stressed that only dialogue would allow to find a solution to the unrest.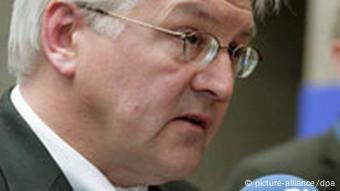 German Foreign Minister Frank-Walter Steinmeier
Relations between Germany and China cooled last September after Chancellor Angela Merkel met with the Dalai Lama, Tibet's spiritual leader, much to the dismay of Beijing. The Dalai Lama has said he is against the current violence and only wants more autonomy for his homeland.
Faced with international concern over its handling of the crisis, Chinese state media have acknowledged that police opened fire on protesters.
After days of official statements that no lethal force had been used to quash the unrest, which has left an unknown number dead since protests broke out last week.
China has said that 13 "innocent civilians" died in anti-Chinese riots last week in Tibet's capital, Lhasa. Exiled Tibetans put the number of dead at 100.
China has barred foreign reporters from Lhasa and parts of neighboring provinces that have seen unrest.
The unrest has come at a sensitive time for China's rulers, with the Beijing Olympics less than five months away.