Germany and California have agreed to cooperate in the fight against climate change following Washington's decision to withdraw from the landmark Paris agreement of 2015.
Germany, Europe's largest economy, and California, the largest state economy within the US, will support the work of the "Under 2 Coalition" which includes cities, regional governments and states, German Environment Minister Barbara Hendricks said Saturday.
"We cannot achieve our climate goals without the engagement of local and regional communities. That has become even clearer after the US withdrawal from the Paris climate agreement," Hendricks said after agreeing on the joint approach with California Governor Jerry Brown in San Francisco.
"California and Germany unite the world leaders in the fight against climate change, the existential threat of our time," Brown said in a statement released by the German ministry.
Brown's agreement with Germany came just hours after he agreed to expand his state's climate partnership with China.
"China and Germany - two of the most powerful countries in the world - are working with California and with other states to deal with climate change," Brown said. "The current withdrawal from the Paris Accord by the Washington administration is being overcome and countermanded by people throughout the whole world."
US President Donald Trump's announcement earlier this month that he would pull the United States from the climate accord provoked anger and condemnation from world leaders, as well as many in industry.
Merkel regrets US decision
Last week German Chancellor Angela Merkel pledged her country's continued commitment to the agreement, calling the US decision "very regrettable."
Hendricks said the Berlin government would ensure that cities, communities and regions played an important role at the UN climate change conference in Bonn in November.
Trump's announcement has prompted a series of agreements highlighting new climate alliances and efforts nationally by state leaders and others determined to maintain broader US efforts to combat climate change.
Nearly every other country in the world remains a party to the Paris Accord.
Prior to the US withdrawal only Syria - in the midst of a six-year civil war that has torn the country apart - and Nicaragua, which rejected the treaty because it didn't go far enough, were the only countries not part of the agreement.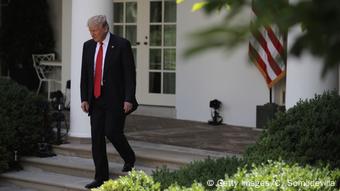 Trump arrives at the White House Rose Garden on June 1 to announce he is pulling the US out of the Paris Accord
Both Hendricks and Brown noted that the global warming crisis will outlast Trump's presidency, even if the currently unpopular leader manages to win a second term.
"So that's eight years," Hendricks said. "I think the climate is going to survive this."
The California governor lamented that Trump has abdicated the country's leadership role.
"The United States by withdrawing under Trump has taken a back seat" on fighting climate change, Brown said. "But that's temporary as this current decision will not stand."
bik/xx (Reuters, AP, AFP, dpa)