At the moment, nothing in Germany is more important than the coronavirus pandemic, and that's likely to remain so in the new year.
Resistance is growing to the curbs on individual freedoms brought about by rules made to combat COVID-19. "A social movement is brewing, in which right-wing and left-wing extremists, but also esotericists and science deniers, are gathering," political scientist Florian Hartleb told DW.
Seven elections
The balancing act between protecting public health and people's rights to freedom will also influence elections, and there are plenty of those in Germany in 2021.
Citizens will head to the polls in six of Germany's 16 states. In Baden-Württemberg, popular Premier Winfried Kretschmann — the first and only state premier from the environmentalist Green party — is standing for reelection in March. April will be interesting in Thuringia, where Bodo Ramelow is currently the sole state premier from the Left party.
In Saxony-Anhalt, it will be decided, at the latest, by the election in June whether the troubled coalition of the conservative Christian Democrats, center-left Social Democrats, and Greens will endure.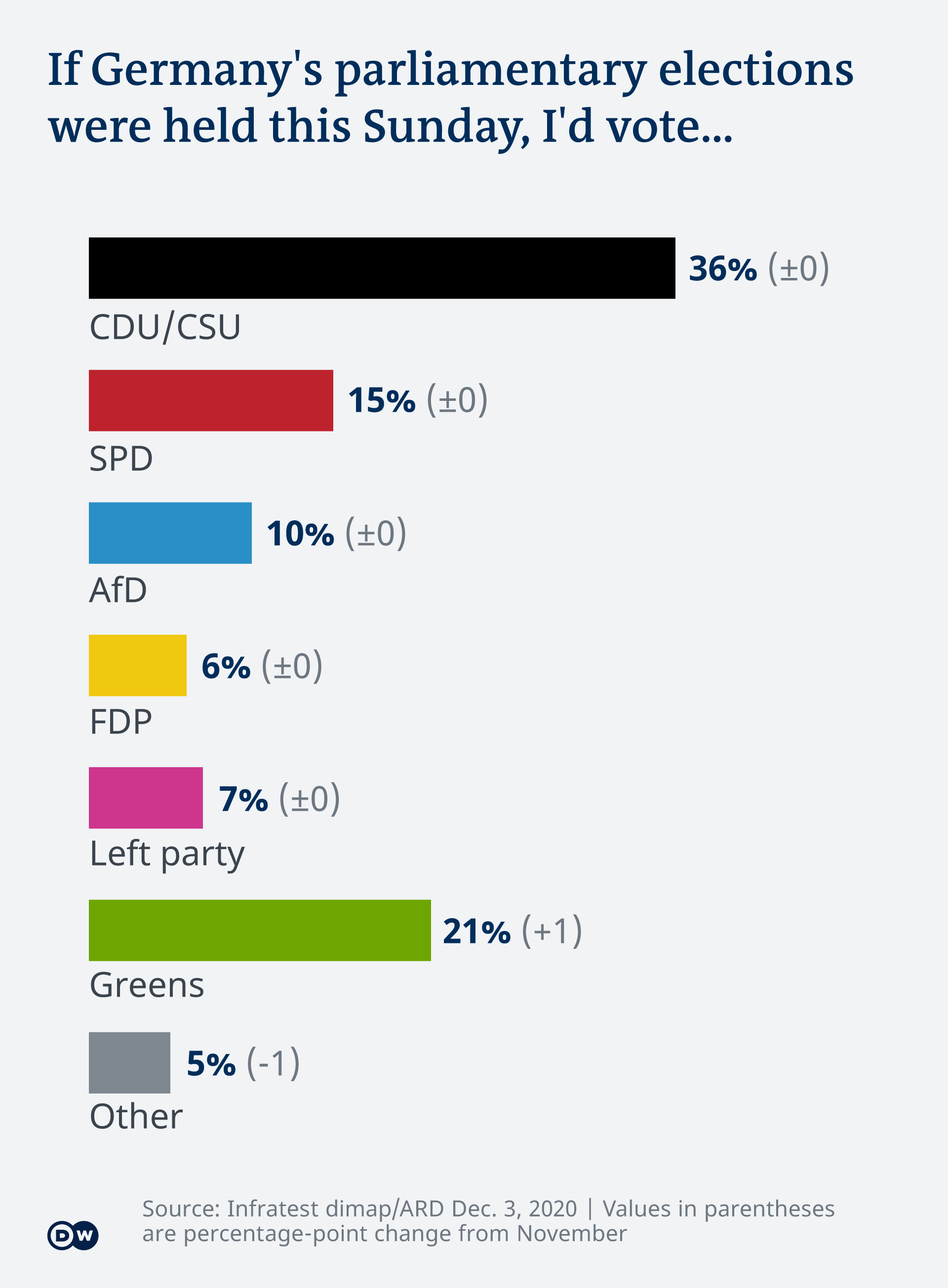 December opinion polls see the conservative CDU/CSU as front runners
But the most important election of the year won't be until September — the federal election, when the era of Chancellor Angela Merkel is set to come to an end. After 16 years and four terms in government, the Christian Democrat wants to step down. Merkel would then have been in office almost as long as the current record holder, Helmut Kohl.
Adieu, Angie!
What will the Germans miss with her departure? "Her will to persevere, the irrepressible, almost inhuman work ethic, the inner discipline and the scientific element in politics," believes Florian Hartleb. He sees as negative points of her time in office "her nebulous, cliché-ridden language" and "her stubbornly pursued refugee policy, accompanied by a naïve welcoming culture," which allowed the far-right Alternative for Germany (AfD) party to grow.
Merkel was also viewed abroad as a crisis chancellor, valued as a figure of stability in turbulent times, including the European sovereign debt crisis, Brexit and the US presidency of Donald Trump, and now with the coronavirus pandemic.
Chancellor Söder?
That's why one of the most important questions in the new year will be who will take her place. With her Christian Democratic Union (CDU) polling consistently at around 35%, far ahead of any other party, the next CDU head has a good chance of also becoming the next chancellor.
There are three candidates who want to face the CDU delegates at a digital party conference to be held in mid-January: former party whip Friedrich Merz, North Rhine-Westphalia Premier Armin Laschet and Bundestag Foreign Affairs Committee head Norbert Röttgen. But whether one of them will become a candidate for the chancellorship in addition to party head remains to be seen.
According to opinion polls, a relative majority of Germans would rather have Bavarian Premier Markus Söder from the CDU's smaller "sister party" as chancellor. It has happened before that the CSU fielded the conservative candidate for the chancellorship, but if Söder were to prevail, it would be the first time that a German chancellor would come from the regional Bavarian Christian Social Union (CSU.)
Building blocks in Berlin
No matter who is chancellor, the union of CDU and CSU will most likely need at least one coalition partner to form a government after the election. The current partner, the Social Democrat (SPD), is not only struggling in the polls but seems tired of being in government after two terms in a grand coalition under Merkel.
The up-and-coming Greens are putting themselves forward. Under popular co-leaders Annalena Baerbock and Robert Habeck, they have set aside some of their more fundamentalist positions and want to join in the government. Habeck told a party conference in late November: "We're working optimistically on solutions. And for these solutions, we are fighting for power."
Söder, however, warns CDU/CSU supporters that they shouldn't take for granted that there will be a conservative-Green government. "Some people think that would be rather nice. But you need to be careful that in the end, you don't wake up to another scenario: namely Greens, SPD, and the Left." But according to current polling, those less conservative parties would not have the numbers to form a majority coalition.
A polarized society
The far-right AfD, currently the strongest opposition party in parliament, is seeing its support sink. However, the restrictions imposed because of the pandemic could drive new voters toward them. "We're experiencing a divided country," said Hartleb. "If economic decline follows the coronavirus trauma, then the social polarization will remain."
In any case, the political scientist is convinced that the COVID-19 pandemic will remain the most important topic of 2021.
"Coronavirus is the biggest crisis since 1945, with a significance which affects all levels of politics, from the local to the global."
This article was translated from German.