Germany is witnessing a revival of wanderlust and expressing it through recreational hiking and walking, according to Rainer Brämer of the German Hiking Institute. Books on the subject are bestsellers, and about 8 million people put on their walking shoes at least once a month, Brämer said.
"We have watched the steadily numbers increasing for years. Most young people are not interested, but older adults seem to have a growing interest in walking and hiking," Brämer said.
Getting away from the daily grind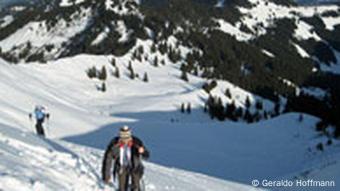 Put on the snow shoes! Winter doesn't stop keen hikers
Brämer, who leads a research group and the University of Marburg on the topic, puts it down to our "high-tech society that demands more and more of us," creating "mental exhaustion" leading many to look to nature for a break.
The German Recreational Walking Federation, which has 600,000 members, has also noticed the rising interest.
"Prior to the last 10 or 15 years it was still seen as very old-fashioned, but people have rediscovered it. The image has changed, it's is now associated with tourism and a balanced lifestyle," said Ingo Seifert-Rösing, publicity adviser to the federation.
There is also an interest in connecting with the local landscape. The marketing of new routes like the Rhinesteig trail, which covers over 320 kilometers from Wiesbaden to Bonn, has also played a role in increasing awareness of the hiking possibilities in the country.
Business is booming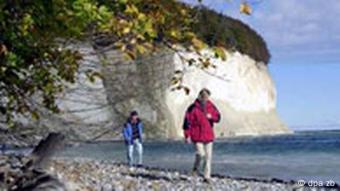 Time out from the craziness of modern living
The Rheinsteig, which was named Germany's most beautiful hiking route in 2006, takes over 20 days to complete, but can be broken up into smaller day trips. It has attracted more than 100,000 people since opening 18 months ago, and has provided a huge boost to tourism and local businesses in the area.
"Many routes are now more varied and more excitingly than in former times. And good hiking trails are a good way to draw new people in," said Brämer. "Hiking is an enormous market for hospitality, clothing and shoe industries."
The hikers' associations are also eager to interest people over the age of 60 in the work of the federation. Attracted by guided tours and opportunity to socialist, people in this age group are frequently out and about. "Many people don't discover walking until they are in their mid-40s or early 50s," said Seifert-Rösing.