The fear of rising prices for food and living expenses was the greatest fear of three quarters of consumers -- the largest percentage since the R+V insurance company began tracking Germans' fears in 1991.
Accordingly, faith in the German economy is also falling. Some 58 percent of those polled feared that the economy was getting worse.
Natural disasters up, terrorism down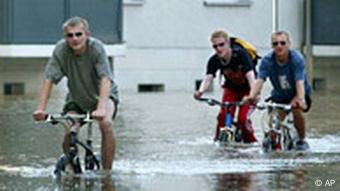 The threat of floods is just one of the things that worry Germans
Near the top of the scale was also fear of natural catastrophes. But compared to last year's study, fewer Germans were afraid of terrorism and war.
Fear of inflation has headed the R+V annual study's list for years. This year, 76 percent of the 2,400 respondents said rising prices were the thing they worried about most. Last year, 66 percent of respondents said inflation fears topped their list.
Economic outlook is sour
Specifically, people were most concerned about the prices of food and energy. This has had an effect on peoples' opinions about the economy, the study concluded.
Germans feel the economy has deteriorated, although in reality it is in relatively good shape, according to Manfred Schmidt of the University of Heidelberg.
"People's deep fear of inflation has been stoked, and their fears for the future have been awakened," Schmidt said.
Old age and illness also rank high
Fears for the future explain why the number of people who fear losing their standard of living in old age has risen by three percentage points to 41 percent, he said.
Furthermore, "strong rains, floods and hail storms have kept German fears of natural catastrophes at a high level," the study revealed.
Other German fears: old age, illness, and home medical care. More than half of the respondents said they were worried about needing in-home care or getting severely ill.
Fear of terrorism has fallen off, with only 41 percent of those asked saying they feared a terrorist attack or war, down from 50 percent a year ago.