Residents of the small town of Schönberg, in northeastern Germany, held a vigil on Thursday for a nine-year-old Syrian boy who died after a road accident in June. The organizers' banner, held at the roadside by Mayor Lutz Götze among others, read simply, "A child died here. We are mourning," but the real reason behind the event was what happened in the weeks after the boy's death.
Twice in July, city authorities were forced to clean the pavement at the accident site after swastikas were spray-painted onto the narrow path. The second time, the scoreline "1-0" was added, as if to celebrate the child's death, and the authorities decided to replace the paving, having apparently failed to remove the white stains completely. On both occasions, locals had painted over the Nazi symbol to make it unrecognizable, coloring it in, adding flowers, or changing it into a peace sign.
The incident seemed to have shaken people in the community: Unlike other towns in the region, notably Jamel just 30 kilometers (19 miles) away, Schönberg does not have a reputation for its Nazi scene — and if such a group did exist, it had been, as a nearby policeman said, "under the radar" to the authorities up until now.
No Nazi scene?
"I would never have expected this," Mayor Götze told DW at the vigil. "I'm really shocked. It's bad enough that a child died, but to comment on it with things like this, it's really unbelievable."
Read more: Life in the Nazi village
"With what happened, it has become clear that there are people among us that chase this old ghost," he added. "And so there is a danger that this Nazi wave, so to speak, will be revived. We want to counter this, because we believe that we don't need neo-Nazism in this town, or xenophobia. This vigil is to send out a signal for peaceful co-existence of all cultures and all countries in this town."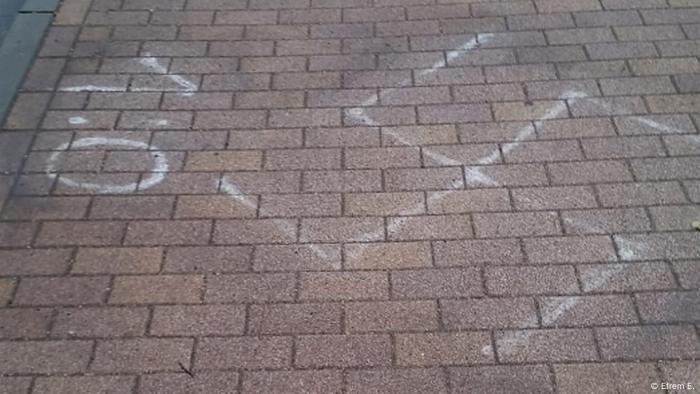 The second time the swastika appeared, the scoreline '1-0' was written under it, as if to celebrate the child's death
The vigil, which attracted around 60 people, was organized by the local Left party group, but attended, as the mayor noted in his short speech, by people of all political persuasions.
Many, like Sigrid Sandmann, were just there out of a sense of duty. "We have to show some resistance to swastikas and the whole far-right ideology," she told DW. "I was shocked, very shocked — I didn't know how we should react and I'm glad they called this event."
Racist vandalism on a busy street
The second swastika was first reported by Efrem, an Eritrean who has lived in the area for two years, and who said he was nonplussed to be the first to draw attention to it — the road runs straight between several supermarkets, where hundreds of people go shopping every day.
"It was just before 7 p.m., it was a Saturday," he told DW. "I had just been to Lidl with my son. He saw it too — he knows what the symbol means, and he kept asking, '1-0', what does that mean, dad? He knew it wasn't good."
Read more: The NSU crime scenes: eerily ordinary sites of terror
"I can't imagine it was done during the day," said Jürgen Evers, who works with the local refugee help organization Bleib Mensch (Stay Human), and who reported the swastika to police. "But someone must have seen it before Efrem."
Efrem said he'd never had problems in Schönberg while he'd lived here. "There are a few people who give you strange looks, but they never make a problem," he said. "I'm not afraid, but I know there are few people who are against us."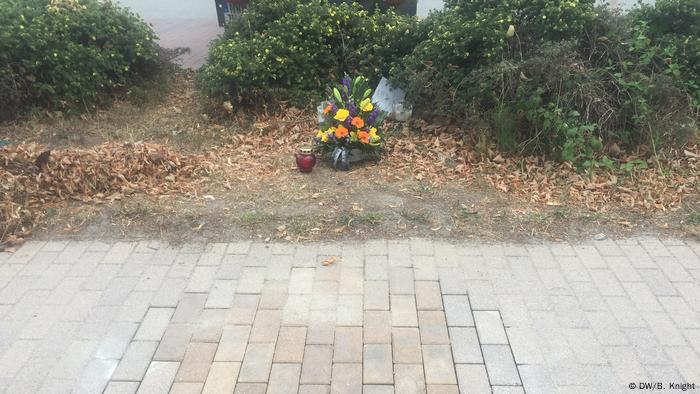 Ultimately, local authorities decided to replace the paving in front of the accident site
A few idiots, a bad reputation
On Monday, state prosecutors announced that they had arrested two men, aged 22 and 23, in connection with the graffiti, after tip-offs from the public. "A search of the homes of the suspects did not lead to the discovery of the spray paint, but the suspicion remains on account of further investigation results," prosecutors said in a statement. There were no new developments on Thursday, and no information on whether the two had been charged. Nor will authorities release information on whether the suspects are from Schönberg. "I just hope they're not from here," said Götze.
Displaying Nazi symbols is illegal in Germany, and far-right extremists are tracked by the country's domestic intelligence agency, the BfV. But locals in the tranquil town center insisted that neo-Nazis were not a problem in Schönberg.
"I would throw anyone out if they started talking like that in here," said one Turkish man, who has run a pizzeria on the town's central square for the past nine years. He also thought too much was being made of the swastika incident, which everyone in the town had apparently heard of. "They're just young people with no awareness," he said. "They should just get a warning."
"People here roll their eyes that a few idiots have given the whole village and the surroundings a bad reputation," said Bernd Räsenhöft, who owns a bookshop on the other side of the cobbled square. "We have a few Nazis here, you can't get rid of them — but you know most of them. And now suddenly everyone is talking about them."