After months of deliberations, Germany's federal government and its states have agreed on Thursday on the amount of additional money they will receive to help locally integrate refugees.
Germany's 16 states are set to receive a total of 7 billion euros ($7.7 billion) over the next three years. The federal government will reportedly provide a 2-billion-euro lump sum to the states for the years 2016, 2017 and 2018.
Additionally, the states are set to receive an additional 500 million euros per year in 2017 and 2018 for social housing projects.
The sum was decided upon after the state premiers met with Chancellor Angela Merkel on Thursday.
Originally, state leaders called for the government to provide 8 billion euros for the next three years. They called for more funds in order to pay for German language courses, education, daycare centers and social welfare.
A 'sensational result'
"It's important that we came to came to a conclusion today," Brandenburg's state premier, Dietmar Woidke, told news agency AFP. However, he said that states and municipalities still shoulder most of the refugee cost burden.
Horst Seehofer, the premier of the state of Bavaria and leader of the Christian Social Union (CSU), the Bavarian sister party of Merkel's Christian Democrats (CDU), hailed the meeting's "sensational result."
Seehofer also told the German newspaper Süddeutsche Zeitung that the lump sum can be "freely used" for integration.
Earlier, Finance Minister Wolfgang Schäuble called for states to itemize their costs before entering a discussion on receiving additional funds.
Integration law passes
On Thursday, Germany's parliament adopted a new law which outlines measures for integrating refugees, including the creation of jobs for asylum seekers.
The law also provides for German language and integration courses, but includes measures to curb benefits for those who do not participate.
One of the more controversial provisions involves where refugees will be allowed to live. Regional governments will now be allowed to determine where refugees may settle - either by placing them in certain areas or banning them from other areas. Refugees who have found work or a place in a training program will be exempt.
Germany saw more than 1.1 million refugees claim asylum in 2015, more than any other European country.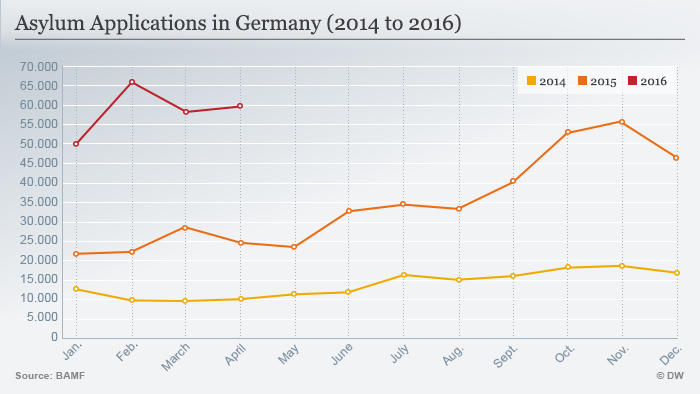 rs/kms (AFP, dpa, Reuters)