Two comparative surveys done at New Year's in 2014 and in 2016 showed that welcoming attitudes among Germans whose families lack migratory experience sank from 36 percent to 28 percent.
Their endorsement of statements that migrants felt welcome in Germany and that Germany had become more diverse had fallen from 55 to 43 percent and 47 to 42 percent, respectively.
The study commissioned by Germany's Mercator Foundation based in the western city of Essen and published Thursday in Berlin highlighted instead a "resurgence of integration-impeding attitudes."
Last year, Germany took in more than one million asylum seekers, many of whom had used the "Balkan route," which southeastern European nations, including Macedonia and Austria, sealed off in February.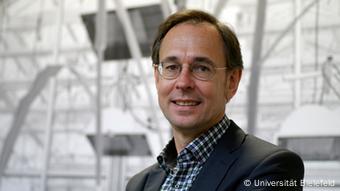 Integration still seen as a 'one-way street,' says Zick
Preferential rights wanted
Lead researchers Professor Andreas Zick and social scientist Madlen Preuss of Bielefeld University's Institute for Interdisciplinary Research on Conflict and Violence said Germans who regarded themselves as "long established" wanted preferential rights over migrants.
In their latest sample, the researchers asked just over 2,000 persons between 18 and 94 - including 391 with migratory backgrounds - to respond to statements to gauge attitudes about how they thought migrants should behave in Germany.
Whereas 33.5 percent had demanded a "stronger self-confidence" toward newly arrived migrants at the turn of 2014, by early this year 44.5 percent held that attitude, especially the view than young migrants must be set limits.
The statement "we should not allow ourselves to be overrun by migrants" was affirmed by 41 percent of Germans without migratory backgrounds. Two years ago, this sentence drew a 28-percent affirmation.
'Old order' wanted
"But, it's more than that," said Preuss referring to traditionalist Germans. "They want back their old order, their old dominance within territory."
The view that it was up to migrants alone to adapt to live in Germany was now held by 54.9 percent of the population, up from 36.2 percent two years ago.
"The process of integration is still seen as a one-way street," said Professor Zick.
Resident foreigners more reticent
Persons with migratory experience, who now make up a fifth of Germany's 80-million population, had also become more reserved toward newly arrived migrants.
While 41.5 percent of those with migratory origins still favored the widely used German expression "welcome culture" (Willkommenskultur), more than one quarter or 28.3 percent of them rejected this attitude.
Trend still positive, says Özuguz
In Berlin for the study's presentation, Aydan Özoguz, government integration commissioner and center-left Social Democrat, said the findings showed that Germany on the whole was positively disposed toward refugees, diversity and a German sense of belonging.
Respondents, said Özuguz, laid less emphasis on aspects such as religious origin and country of birth - over which a migrant had little control - but now focused on things that a migrant could acquire.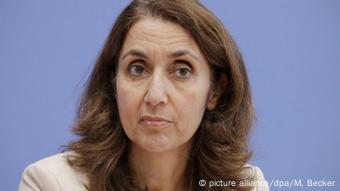 Integratory effort recognized, says Özuguz
These included learning the German language, respect of German political institutions and law, communal effort and workplace involvement, she added.
Irreconcilable viewpoints
Conflict researcher Zick said Germany's population was currently polarized between two hardly reconcilable viewpoints.
One group saw the welcome culture as a guiding principle. The other side wanted a "clear hierarchy" between those long-established and those newly arrived, he said.
"We need policies that create identification and belongingness for all, for locals and immigrants," Özuguz said.
ipj/kms (dpa, KNA, epd)