The photos and the videos were seen around the world. Here, in front of the imposing Karl Marx bust — or the Nischel as locals call it, — was the setting for scenes of far-right extremist violence, which many thought had long disappeared from Germany's streets.
Two months on, things are much quieter. The only obvious signs of the demonstrations that electrified Germany are two banners that hang down in protest against the far-right sentiment, which has become synonymous with the name "Chemnitz," the city formerly known as "Karl-Marx-Stadt" prior to German reunification.
"Chemnitz is neither grey nor brown," read the banners. The color brown is associated with the far-right in Germany.
Read more: Merkel urges understanding for eastern Germans
Following the killing of Daniel H. in August, thousands of demonstrators took to the streets. A Syrian and an Iraqi stand accused of fatally stabbing the 35-year-old following an altercation.
The demonstrations quickly escalated into xenophobic riots, attended by far-right extremists and known neo-Nazis. While some protesters were accused of hunting people they believed to immigrants, others were seen making the illegal straight-armed Nazi salute.
Some nine weeks later, Chemnitz is still on its search for normality — a search that isn't going to end soon. A vicious circle of historical, economical and social factors have all contributed to the rise of the far-right and xenophobic sentiment in the eastern German city.
Read more: Crossing Germany's divide – encounters with far-right protesters
Promoting open discussion
In a bid to promote dialogue between locals, German President Frank-Walter Steinmeier visited Chemnitz for the first time as president on Thursday, where he met with a group of citizens at a so-called "coffee table."
"I'm not here to talk about citizens," he said shortly after his arrival. "I'm here to talk with them."
For two and a half hours, 13 Chemnitzers shared their concerns and opinions with the German president and Chemnitz mayor Barbara Ludwig. But conversation wasn't quite as light and fluffy as the flower arrangement and plates of cake lining the table might at first have suggested — particularly when it came to discussing Germany's handling of the migration crisis in 2015.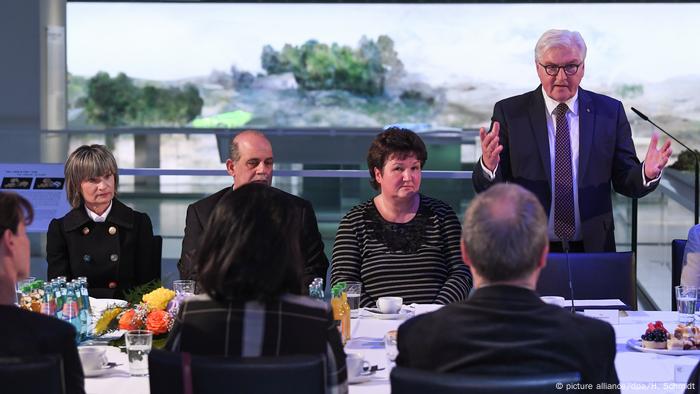 German President Frank-Walter Steinmeier leads the dialogue with locals in Chemnitz
In light of the anti-migrant protests, Maythan Yabar, who works for development and social service Caritas, said the discussion with Steinmeier and other locals was an "opportunity to express what the migrants I work with tell me. 'We want to live here in peace,' is what they say."
Housewife Heike Bämmer, however, told DW that "migration and crimes committed by migrants are the main issues."
"I don't go out at night any more," she said. "People are scared."
Likewise, a ballet dancer at Chemnitz opera said she, too, had been more wary since the August violence — but for a different reason. Soo-mi Oh is from South Korea.
"Even our director has warned us. We're a very international ballet company," she says, adding that the weekly anti-migrant protests still being held by the group "Pro Chemnitz" are particularly worrying.
Read more: Chemnitz fact check: Were foreigners chased down during protests?
National effects
Protesters were nowhere to be seen in Chemnitz on Thursday afternoon, but that's likely to be a different story come November 16 when Chancellor Angela Merkel visits the same city. Thousands of far-right demonstrators are expected to hit the streets.
Following the national trend, Merkel's conservative CDU party in Saxony — the state in which Chemnitz lies — has started to lose its grip in recent years, particularly since the rise of the far-right Alternative for Germany party (AfD). In last September's federal election the AfD won 27 percent of the vote in Saxony.
Read more: Merkel hits out at AfD on far-right violence
The wounds of August's violence in Chemnitz will still need a long time to heal. In the meantime, far-right parties continue to attract support. But despite the polarized opinions around Thursday's "coffee table," participants agreed on at least one point: dialogue was a "start."
"One thing, however, is clear," Steinmeier added in a warning against a repetition this summer's riots. "The state, and only the state, is responsible for security and criminal prosecution."