Theodor Mommsen: A monumental historian
The first was Theodor Mommsen in 1902, one of the most important historians of the 19th century and the second-ever winner of the literary award. He received the award for his three-volume work "History of Rome," which has maintained its relevance for historians through the present day. His positive portrayal of Emperor Julius Caesar influenced German research for nearly a century. It took Mommsen more than 30 years to write his comprehensive work.
Among other things, Mommsen served as a professor at Berlin's then-named Friedrich-Wilhelms-University (today's Humboldt University), but he was not popular among his students due to his domineering manner. He was held in much greater esteem in Rome. The Italian capital named him an honorary citizen.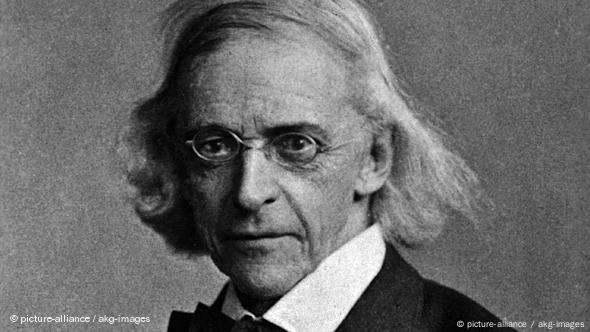 Theodor Mommsen highly impacted German historical studies
Read more: Follow in Roman gladiators' footsteps at Germany's Xanten park
Gerhart Hauptmann: Society's black sheep
In contrast to Mommsen, Gerhart Hauptmann was the black sheep of society at the turn of the century, known in his younger years for breaking numerous taboos and shocking the upper class. His first play, the social drama "Before Sunrise" about a rich farming family's downfall through alcoholism, unleashed tumult at its debut in the Berlin Lessing Theater in 1889. The work symbolized the breakthrough of the Naturalism, a movement focused on honest and accurate depictions of life with all its flaws and faults.
Hauptmann's key message was that man lacks self-determination; descent, social standing and upbringing play a determining role. His most important play, "The Weavers" (1892), was considered revolutionary in its language and depiction of real, ordinary people. The dramatist received the Nobel Prize in 1912 "primarily in recognition of his fruitful, varied and outstanding production in the realm of dramatic art."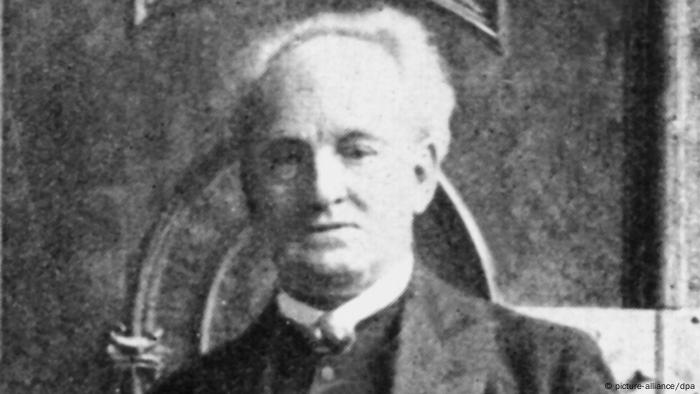 Gerhart Hauptmann was not one of high society's favorite writers
Read more: German Literature: Weighty? Yes. Boring? No.
Thomas Mann: A long wait
Thomas Mann also received the Nobel Prize for his exceptionally encompassing work "Buddenbrooks." The novel, which tells the tale of a merchant family in Lübeck and its downfall over four generations, is considered to be the first major German-language social novel. His own family history served as the model for that of the merchant's son. A 26-year-old Mann published the epic in 1901. The two-volume first edition remained relatively ignored. It wasn't until two years later, with the publication of the single-volume second edition that Mann achieved his breakthrough. Even then, it took another 26 years until the Nobel committee awarded Mann the prestigious prize for "Buddenbrooks." In the meantime, Mann had already established himself through numerous works as one of the most important writers of the 20th century.
Read more: Thomas Mann's summer house in Nida
Mann was personally irritated that the Nobel Prize award was based nearly exclusively on "Buddenbrooks" and not on other books like "The Magic Mountain," or on his whole body of work. Nevertheless, he still looked backed at the award with pride.
"The sensational award … had, to the extent of my knowledge, more than once been hanging right there over my head and did not catch me unprepared. It was certainly in my path — and I say this without arrogance, rather out of calm, if not disinterested, insight into the character of my fate and my role on this earth, to which the double-edged gleam of success now belongs, and which I contemplate in a thoroughly human manner, with making a big spiritual deal of the whole thing."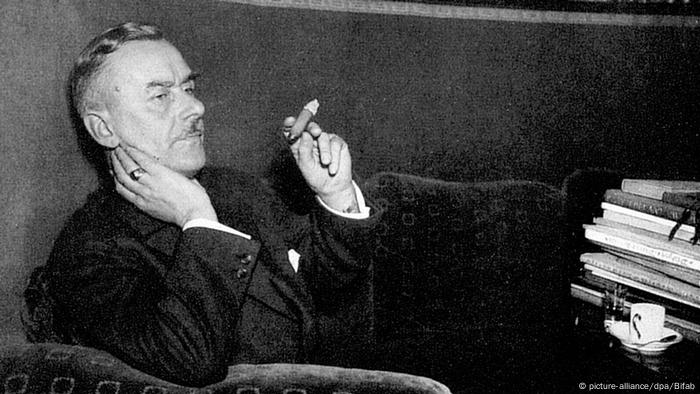 Thomas Mann also wrote 'Death in Venice' (1912)
Hermann Hesse: Humor as a solution
Mann was a clear admirer of the German-born Hermann Hesse, who won the prize in 1946, 17 years after Mann. He was living in Switzerland at the time, having spent part of his childhood and adulthood there and obtaining Swiss nationality in 1923. Hesse earned international recognition with the 1927 publication of his novel "Steppenwolf," which drew on autobiographical elements. Protagonist Harry Haller is torn between the socially-confirmed bourgeoisie side of his personality and the socially-critical loner side. Haller overcomes this inner conflict through his ability to laugh at himself.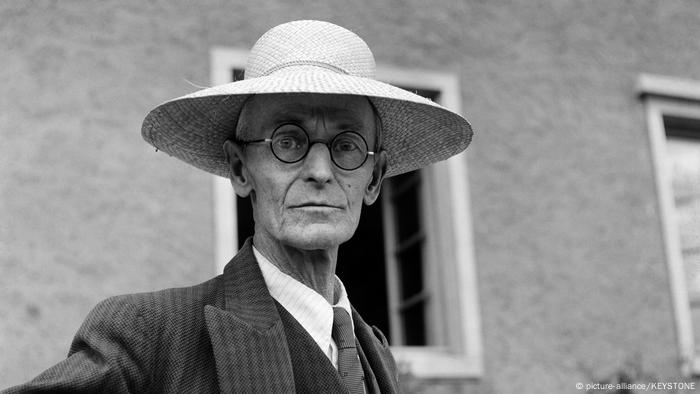 Hesse used humor in his stories. He is pictured above in front of his house in Switzerland.
Henrich Böll and Günter Grass: Post-WWII writers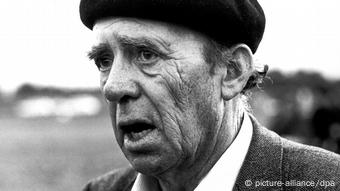 Heinrich Böll was an outspoken critic of the young West German state
Heinrich Böll received the award in 1972 for his entire body of work, which critically examined the young post-WWII Federal Republic of German. His most famous work, the novel "The Lost Honor of Katharina Blum" (1974), grapples with the sensation-seeking tabloid press. He had previously secured his literary breakthrough in 1951, when the influential German literary circle "Group 47" bestowed its literary development prize upon Böll's short story "The Black Sheep."
Read more: Heinrich Böll and his Ireland
Günter Grass received the same award seven years later, though he did not receive the Nobel Prize until 1999 for his life's works. Both Grass and Böll fought on the frontlines of WWII and were engaged citizens and public persons who received popular support as well as much criticism. Though they shared the same leftist intellectual perspective, they did not always see eye to eye.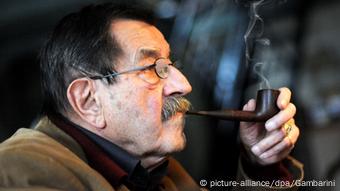 Günter Grass received the Nobel Prize for his entire body of work
In the opinion of the 1999 Nobel committee, Grass' "frolicsome black fables portray the forgotten face of history." He made his mark on the German post-WWII literary canon with the Danzig Trilogy: "The Tin Drum" (1959), "Cat and Mouse" (1961) and "Dog Years" (1963). Later works, such as "Too Far Afield" (1995) and the autobiographical "Peeling the Onion" (2006) dealing with his membership in the Nazi's paramilitary organization, were widely regarded and discussed. He remained one of Germany's most important intellectuals until his death in 2015.
Herta Müller: From Romania to Germany
The most recent German-speaking Nobel Prize recipient is Herta Müller, who won in 2009. Born in 1953 in Romania to a family that was part of the country's German minority, she migrated to Germany in 1987. Her works deal with the consequences of the communist dictatorship in Romania. In her 304-page prose-poem "The Hunger Angel" (2009), Müller describes the deportation of a young man to a labor camp in Soviet Ukraine. It represents the fate that the ethnic German population in Transylvania faced after WWII. Müller's mother spent various years in a labor camp in Ukraine after the war's end. She also drew upon the oral history of the Transylvanian-born ethnic German poet Oskar Pastior that she had recorded. The Nobel jury described Müller as an author, "who, with the concentration of poetry and the frankness of prose, depicts the landscape of the dispossessed."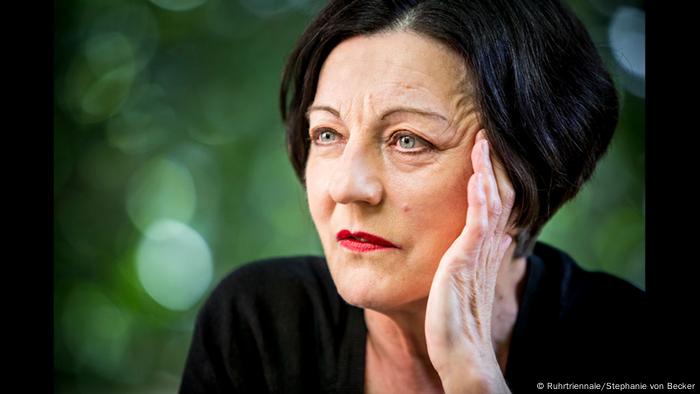 Herta Müller's father served in the Nazi paramilitary force during WWII. Her mother spent many years in a forced labor camp
Other German-speaking Nobel Literature laureates include Elfriede Jelinek (Austrian, 2004), Elias Canetti (Bulgarian/British, 1981), Carl Friedrich Georg Spitteler (Swiss, 1919), Paul Heyse (German, 1910) and Rudolf Eucken (German, 1908).