German Justice Minister Heiko Maas on Sunday called on the organizers of a rally by "anti-Islamization" group PEGIDA scheduled for Monday to cancel the protest, saying the movement was capitalizing on the recent Islamist terrorist attacks in Paris.
"If the organizers had a shred of decency they would simply cancel these demonstrations," the mass-market Bild newspaper quoted him as saying in its issue to be published Monday.
"The victims (of the Paris attacks) do not deserve to be abused by rabble-rousers like these," he said.
"It's just disgusting how the people behind these demos are exploiting the heinous crimes in Paris," he added.
Weekly rallies
PEGIDA - an acronym for "Patriotic Europeans against the Islamization of the West" in German - has been holding weekly Monday rallies since October in the eastern city of Dresden, drawing a record 18,000 people to its last protest.
It has asked participants in its planned rally on Monday to wear black armbands and observe a minute's silence for "the victims of terrorism in Paris."
Seventeen people died last week in a three-day killing spree by Islamist radicals in the French capital, Paris. In the deadliest incident, two brothers, Cherif and Said Kouachi, killed 12 people, including cartoonists and policemen, in an attack on the offices of satirical newspaper Charlie Hebdo, which is known for its irreverent take on religion, including Islam.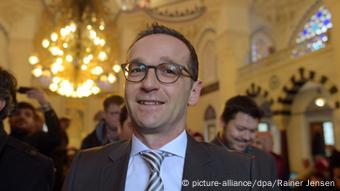 Maas is an outspoken critic of PEGIDA
Maas said it was reprehensible that PEGIDA wanted to commemorate victims "that last week they still insulted as lying journalists."
The right-wing populist group often accuses mainstream media of lying about immigration and other issues.
On Saturday, some 35,000 people gathered in Dresden to protest against racism and PEGIDA's rallies.
Arson attack in Germany
Maas' comments came shortly after a firebomb attack on the German tabloid "Hamburger Morgenpost."
The mass-circulation daily had reprinted satirical cartoons from Charlie Hebdo, and police are investigating whether there is an Islamist link to the attack early on Sunday morning, in which no one was injured.
Two people have been arrested in connection with the incident, which saw rocks and an incendiary device thrown through a window of the paper's headquarters in the northern city of Hamburg, causing minor damage.
tj/rc (AP, dpa, Reuters, AFP)