In addition to the 520 "potential attackers" de Maiziere cited in his interview with German daily "Bild" on Saturday, he said there were a further 360 "relevant" people, known to police for their proximity to the potential attackers.
"The troublemakers are persons where certain facts suggest that they will commit politically motivated crimes of considerable importance," he added, in an interview ahead of the 15th anniversary of the 9/11 attacks on the US, which takes place on Sunday.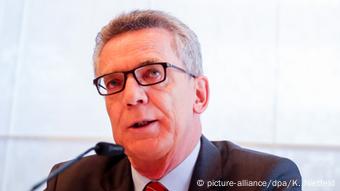 De Maiziere said Islam did not bear within it the "seed of terrorism"
De Maiziere appealed to all Muslims to distance themselves from Islamist terrorism, saying it was important that they recognized any radicalization patterns within their communities and intervened in good time.
"It is an abuse of the religion to carry out assassinations in the name of Islam," de Maiziere said.
But he warned that there was no justification to putting all Muslims in Germany under suspicion.
Sense of unease
Germany remains on edge following several violent incidents in July, including a suicide bombing close to a music festival, an ax-and-knife attack on a commuter train and the Munich shopping mall shootings, which left 10 people dead.
Several of the incidents were carried out in the name of the self-proclaimed "Islamic State" (IS) group, which has led to concerns the country could soon be the target of a major attack.
"The terror threat now stems from foreign hit teams as well as fanatical lone wolves in Germany," de Maiziere told "Bild" on Saturday.
"The hit teams are secretly smuggled into Europe and prepare their actions without being noticed, as we saw with the attacks in Paris and Brussels."
"But it's even more difficult to uncover the fanatical lone wolves," the minister said, adding that there is a real and present danger from both threats.
De Maiziere insisted that security authorities were doing everything possible to monitor "the potential terrorists," noting that there have been many more investigations and arrests this year than in previous years.
Despite their efforts, he said, "the authorities are assuming there are undiscovered lone wolf terrorists out there."
mm/tj (AFP, epd, KNA, Reuters)