German reaction to the nomination of French politician Pierre Moscovici was highly critical on Thursday, amid questions over France's own failures in controlling its government debt. Moments before Moscovici's nomination, in what at best was unfortunate timing, the government in Paris announced that it would need two more years - until 2017 - to meet EU targets for annual government borrowing.
"The nomination of a deficit sinner like this as the new currency commissioner is a slap in the face to all those, who have used strict budgetary discipline either to stay on course in the crisis, or to recover after it," Christian Democrat politician Klaus-Peter Willsch wrote in an article for the business news site Handelsblatt on Thursday.
Willsch said that France had intentionally submitted "sugarcoated" economic predictions, more optimistic than those of the European Commission or the International Monetary Fund, to give the impression it would meet the targets - only later to revise the numbers.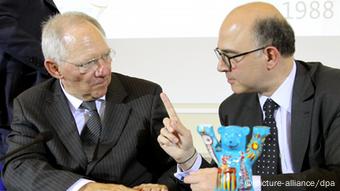 Schäuble said his reservations on Moscovici were not personal
"Anyone who uses such methods to sneak around the guidelines of the fiscal pact cannot possibly command credibility or authority in the office as currency commissioner," he said, using a short-form commonly employed for Moscovici's role as ecomonic and monetary affairs commissioner.
'The goat as the gardener'
German Finance Minister Wolfgang Schäuble had expressed his reservations months before Wednesday's announcement, saying it would send the wrong signal to put an economist from a struggling country in charge of budgetary oversight.
Social Democrat Economy Minister Sigmar Gabriel also criticized France in a parliamentary debate on Wednesday, noting that Germany had also logged excessive deficits in past years, but saying Berlin had reacted to change this, unlike politicians in Paris: "They simply overstepped the deficit criteria, and then did nothing else," Gabriel said.
The German press pulled even fewer punches, with most front pages focusing on what has been dubbed "The Juncker Commission," after European Commission President-elect Jean-Claude Juncker.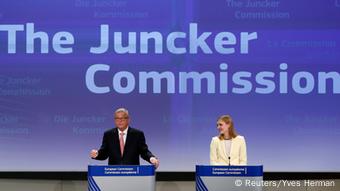 'The Juncker Commission' must still be approved by the European Parliament
The regional Mittelbayerische Zeitung daily wrote an editorial entitled "The goat as the gardener," also focusing on the appointment of a Conservative euroskeptic from Britain, Jonathan Hill, as the commissioner in charge of regulating the financial markets. These two appointments were like "giving the canary to the cat for safekeeping," the paper wrote.
Moscovici: Debt rules 'my compass'
Moscovici told reporters in Brussels on Wednesday that "the rules are my compass," while telling French business paper 'Les Echos' that "I will not be France's ambassador in Europe."
The designated commissioners require approval from the European Parliament, with hearings currently scheduled to start in Strasbourg late in September. Conservatives and pro-business liberals in the bloc have expressed dissatisfaction with Moscovici's nomination, but it's not clear whether this will affect the final vote, due on October 20.
msh/shs (AFP, dpa, Reuters)