It's been a long, hot summer in Germany, but for the country's farmers at least, there is some relief at the end of it: The federal government has agreed to provide up to €170 million ($197 million) to make up for business losses brought about by the unusually dry weather.
Julia Klöckner, the CDU politician who serves as the minister for food and agriculture, announced the news at a press conference on Wednesday, following discussions with the cabinet.
The German government has designated the drought crisis as one of "national dimensions", opening up the legal pathway to federal aid, rather than just aid provided at state level. Combined with state assistance, around €340 million in emergency government aid will go to the most severely affected farmers.
State governments will provide just over half the total amount of financial assistance, with federal assistance expected to come in at between €150 million and €170 million, Klöckner said.
Since the extent of the widespread crop damage wrought by the heatwave in Germany became apparent last month, farmers have been calling for emergency aid to offset losses.
The German Farmers Association (DBV) said aid of at least €1 billion was required and while the figure agreed to by the government comes in well short of that, this is still the first time since 2003 that the German government has provided emergency federal aid to farmers following a drought crisis.
A dire harvest
The grading of the crisis as one of "national dimensions" is a reflection of the crop damage farmers have had to endure during a freakishly long dry spell that has endured in much of the country since May.
Although the government's official annual harvest report is not expected until later this week, the long-standing fears about the widespread crop losses have largely been confirmed.
According to DBV surveys, this year's grain harvest is 26 percent lower than the annual crop yield from the previous five years. DBV President Joachim Rukwied said this week that eight of the 16 German federal states had already suffered financial damage of around €3 billion as a result of the drought.
Many farmers in particularly badly affected regions in Germany's north and east have reported harvest losses ranging from 50 percent all the way up to 80 percent or higher.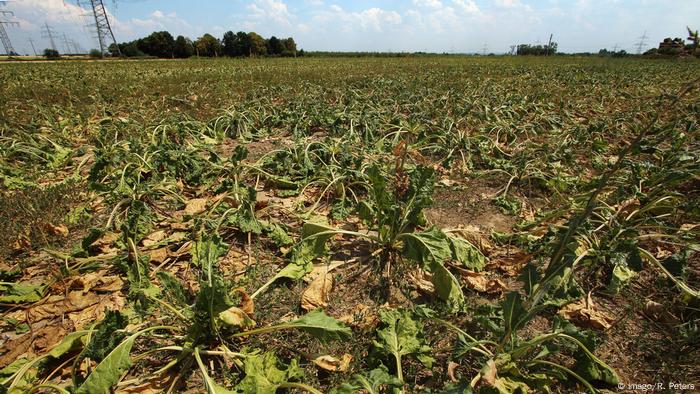 In some regions of Germany's north and east, there has been massive crop damage as a result of the drought.
As well as the damage to individual crop yields, the drought has had a knock-on effect in other agricultural areas.
As a result of feed shortages, some dairy farmers have had to slaughter their cows much earlier than they had planned to, leading to an increase in milk prices in some regions. But representatives of farmers' associations said there would be only moderate price hikes despite the crisis situation.
Meeting the threshold
With the well-being of more than 10,000 farming businesses nationwide estimated to be at serious risk as a result of the drought, some form of government assistance was widely anticipated.
Read more: Opinion: The German farmers who moan until the cows come home
The general threshold for government assistance in a weather crisis is when a business has had more than 30 percent of its annual production destroyed. At Wednesday's press conference, Klöckner said only businesses that had suffered losses to this extent could count on assistance.
Federal and state governments will now begin a process of determining which businesses are most in need of financial assistance, Klöckner said.
Reasons to be fearful
Matin Qaim, professor of international food economics and rural development at the University of Göttingen, told DW that while this summer has been a very unusual one when compared with the past, it will become less and less unusual over the coming years.
However, he said that while such summers will have an increasing impact on food production, he is much more concerned about poorer global regions than he is about wealthy European countries such as Germany.
"When we have a few of these years in a row then we will certainly have a serious food security problem but I am much less concerned about Germany because people in Germany are rich enough that even if food prices go up, they can afford enough food.
"I am much more worried about the poor people in Africa and south Asia where hunger and poverty is severe already, even in an average year, and will certainly go up when food prices go up.
"Unfortunately we are complaining here but all our climate models are saying that the negative impact of climate change will be much more severe on agriculture in tropical regions of south Asia and Africa than in Europe. That means the biggest negative impact will be on people who are already poor."
aos/uhe (dpa, AFP)