German farmers who have been suffering under a weekslong drought were told on Monday that the government was continuing to hold back a decision on whether to provide them with compensation for failed harvests.
Following a meeting of state and federal officials to discuss the situation, a state secretary for the Agriculture Ministry said it was still too early to decide on aid.
"The exact extent of the damage can be measured only next week. So we are sticking to our timetable: Only when concrete and reliable figures are available can a final decision be taken on federal aid," Hermann Onko Aeikens said.
The federal minister for agriculture, Julia Klöckner, had already announced two weeks ago that no decision would be taken until the government finished its harvest report in late August.
Aeikens pointed out, however, that farmers could already draw on a range of aid initiatives in place at state level.
Read more: German astronaut Alexander Gerst shocked by parched Earth images from space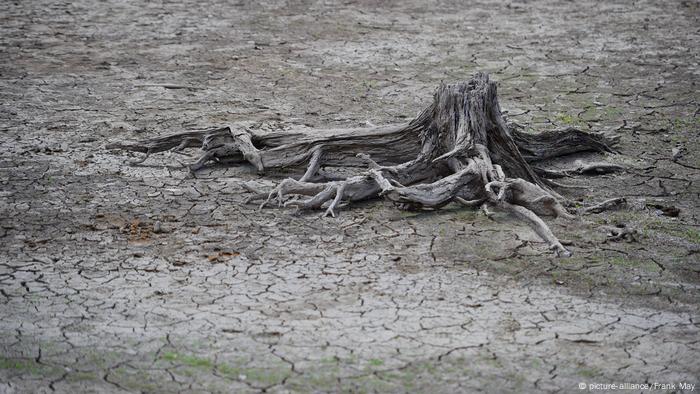 Eastern Germany has been particularly hard hit by the lack of rainfall
Pleas for aid
The agricultural minister of the eastern state of Mecklenburg-Western Pomerania, Till Backhaus, expressed disappointment at the continued wait.
"The fact that no clear signal is coming from Berlin in this situation is sobering. I had hoped that a decision was already within reach," he said.
The German Farmers' Association has called for €1 billion ($1.14 billion) in compensation for damage to crops, with a shortage of cattle feed causing particular concern.
Most harm to crops has occurred in the north and east of the country, with the eastern state of Saxony saying that damage there amounts to €308 million.
In Germany, the individual states are responsible for aid measures in the case of extreme weather events, but the federal government can also step in when the consequences affect the entire country.
Read more: Calls for farm support intensify as Europe struggles with heat wave, drought
tj/rc (dpa, AFP, Reuters)
Every evening at 1830 UTC, DW editors send out a selection of the day's hard news and quality feature journalism. You can sign up to receive it directly here.