The unrelenting dry spell and heat wave currently bringing 30-degree-Celsius-plus temperatures (86 degrees Fahrenheit) to Germany has had severe consequences for farmers in the country's north.
After previously predicting 41 million tonnes of grain, the German Farmers Association (DBV) now estimates a harvest of only 36 million tonnes.
"Many farmers now need quick support. The numbers from our point of view allow for a fundamental decision on drought-related assistance," Joachim Rückwied, the head of the DBV, said in a statement.
But farmers cannot expect any immediate help from the federal government. Speaking one day after the DBV requested €1 billion ($1.17 billion) to compensate farmers whose crops have been most severely affected, agricultural minister Julia Klöckner acknowledged on Wednesday that some farmers had good reason to fear for their livelihoods and "the corn is literally drying out on its stalks."
But she said that no aid could be given until the government finishes its harvest report in late August.
"It's important that we have valid data, and not just individual estimates," the minister told reporters.
Klöckner added that her ministry was busy collecting data from Germany's sixteen federal states and looking at issues concerning the usage of land, to alleviate farmers' hardship.
But that's unlikely to come as much consolation to either farmers or climate activists, who say the drought is evidence of the devastating effects of global warming.
'A glass of water against a wildfire'
On Tuesday officials from Klöckner's ministry met with representatives from the states for a "drought summit." Climate control activists have greeted the meeting with scorn.
"This summit will be of no more use combating the drought than a glass of water against a wildfire," said Michael Schäfer, director of climate protection and energy policy at World Wildlife Fund (WWF) Germany, in a statement. "Instead of a dried-out husk of a summit, Germany needs an immediate program to combat the causes of global warming. If we keep doing nothing, this summer's extreme weather will become normal."
Environmentalists are calling on farmers to switch over to ecological means of agricultural production. But Klöckner says that not all extreme weather phenomena can be blamed on climate change and that farmers have enough on their hands at present.
"It would be unfair to dump climate change on the doorstep of the farmer who is worried about his survival," she said.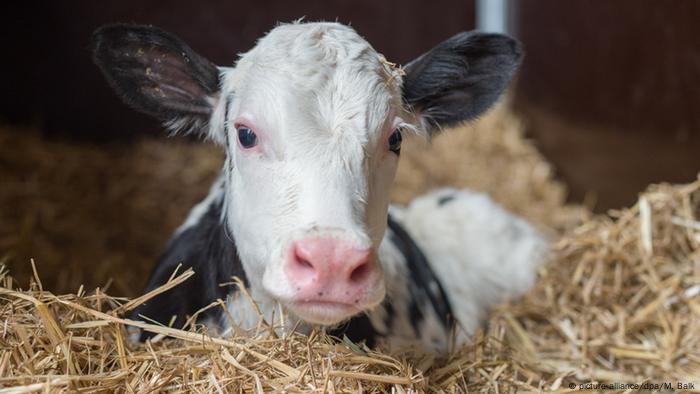 The drought has had a profound impact on the German agriculture sector
Breaking point
With minimal levels of rain having fallen since April, the normally fertile regions of the north and northeast have seen their grain and crop harvests severely affected, with massive losses now guaranteed as a result of the drought.
Read more: Climate change already affecting German farmers
"We expect billions in losses," Rukwied said last week. "The government needs to declare a state of emergency so that farmers in areas hit hardest by the drought can be helped directly with cash aid."
Read more: German agricultural exports hit new high
"It hasn't really rained since April and that's the main growth period for our grains and the other crops, we've never seen anything like it," said Juliane Stein of Agro Boerdegruen, a farming conglomerate based in the eastern region of Saxony-Anhalt.
"We've reached the point here in Germany where we're talking about a natural disaster that's a threat to our livelihood."
A drought counts as a natural disaster in Germany once 30 percent of the annual harvest has been destroyed. Given the damage already done, that criteria appears close to being met.
The grain crop alone has fallen by eight million tonnes, which equates to 18 percent of the annual yield. That has knocked a whopping €1.4 billion from industry revenues so far this year, according to estimates.
Read more: Extreme weather on the rise in Europe
jc,aos/sri (AFP, dpa)