The water level on the Oder River at the key Frankfurt 1 measuring point had dropped to 93 centimeters (3 feet) on Wednesday. It was 110 centimeters at the end of July.
The river level was the lowest since records began more than a century ago according to Sebastian Dosch, a spokesman for the Eberswalde Water and Shipping Authority in the eastern German state of Brandenburg. Without rain, the Oder's water level could be expected to fall a further 2 centimeters per day, Dosch said.
The Oder River rises in the Czech Republic before forming 187 kilometers (116 miles) of the border between Poland and Germany as it flows northwards to the Baltic Sea.
Germany has faced hot weather and drought conditions for weeks. Some thunderstorms and rain over the last week have done little to change the situation for the Oder and a number of other rivers.
Nearly all the stations monitoring water levels on the Danube, Elbe, Main, Moselle and Rhine rivers were reporting lower levels than usual in August. Two stations on the Elbe were reporting levels approaching those not seen since 1934 and 1947. Levels on the Rhine have not yet fallen to the records of below half a meter in 2003 but they are not far off — with only 58 centimeters at Worms and 55 centimeters at Emmerich recorded on Wednesday.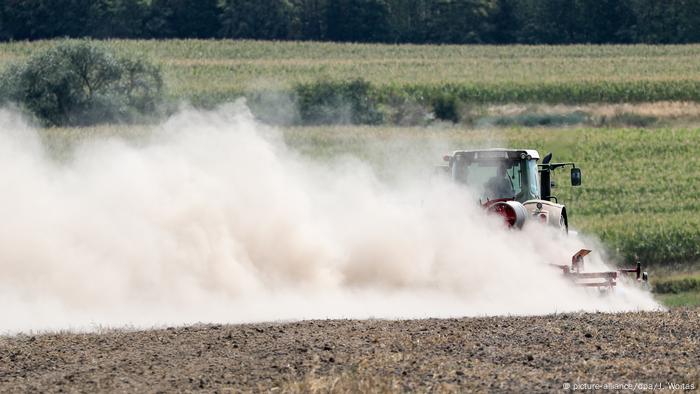 A dry field in Saxony
Farmers in trouble
The lack of rain since May and the highest temperatures since records began in 1881 have affected crops in the north and east of the country. The eastern state of Saxony said that damage there amounts to €308 million ($349 million).
Agriculture Minister Julia Klöckner is waiting for official crop figures before deciding on a response to calls for a billion euros in crisis state aid requested by German farmers across the whole country. Her decision is expected next week.
The grain harvest this year is forecast to be the lowest in 24 years.
The heat has damaged animal feed grains, with straw and hay also in short supply. Klöckner said on Wednesday that some environmental conservation rules would be relaxed to help farmers deal with the higher cost of animal feed due to the drought. Animal feed wheat for September delivery was quoted at €224 a ton on Wednesday, which is €12 more expensive than bread wheat.
jm/sms (dpa)
Each evening at 1830 UTC, DW's editors send out a selection of the day's hard news and quality feature journalism. You can sign up to receive it directly here.