In Berlin on Wednesday, Germany's economy minister Sigmar Gabriel was cautiously optimistic as he presented the government's annual economic assessment report and forecast. The report, entitled "Securing the future - using the digital transformation as an opportunity," projected 1.7 percent real GDP growth in 2016, down marginally from the previous forecast of 1.8 percent.
In 2015, GDP growth was also 1.7 percent, up marginally from 1.6 percent in 2014, the report said. Its main basis for optimism was the country's healthy employment situation, with 43 million people in work in 2015 - a new record high, and the ninth year in a row that the total number of employed people increased. Unemployment is expected to remain stable at 6.4 percent.
"The German economy is fundamentally in good shape," the report said. "In the economy as a whole, production capacity utilization is at normal levels. The situation on the labor market remains positive."
The main reason for the rosy picture was domestic spending, including increases in both private household spending and government spending. Wages rose in 2015, and pay packets are expected to rise by a further 2.6 percent in 2016. The government accordingly expects a rise in consumer spending by 1.9 percent.
It also projects an increase in construction investment of 2.3 percent, partly driven by the need to build housing for a record influx of refugees and migrants, and an increase of state spending by 3.5 percent.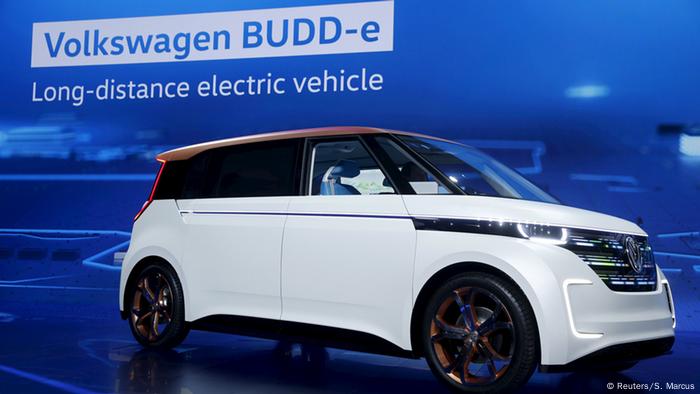 Economy Minister Gabriel said Wednesday that the government is considering additional subsidies to encourage people to buy electric cars. The government is way behind on its target of getting a million e-cars on German roads by 2020.
Exports down, domestic demand up
A key message of the report is that Germany's economy will continue to grow despite dampening prospects for export markets. The country has long had an export-focused economy, but now expects a reduction in export demand to knock 0.4 percent off GDP in 2016, compared to trend-line growth. Slowing economic growth in China and in various commodity export dependent countries, including oil and gas exporters, are the reason.
Lower oil and gas prices are bad for the countries that are heavily reliant on exporting fossil fuels, and for German exporters who sell goods to them. But low energy prices are a boon to European consumers, who have more money left over to spend on things other than petrol or gas - and that, alongside increased wage packets and rock-bottom interest rates, will help boost domestic consumer demand.
Imports are expected to increase faster than exports in 2016, which will please some economists who have long been worried about the impacts on global financial stability of Germany's massive chronic trade surpluses.
Staying in the black
The substantial 3.5 percent increase in state spending over the coming year will help pay for long-delayed infrastructure investments, and also to pay the substantial costs associated with the 1.1 million migrants that came to Germany in 2015, and a further several hundred thousand expected in months to come.
Despite the boost in spending, the government expects its books to remain in the black for the third year running. High employment rates and wage increases mean increases in government income tax revenues, and healthy consumer spending mean increases in value-added tax revenues.
Accordingly, the report projects a debt-to-GDP ratio of just under 70 percent by the end of this year, down from 71 percent in 2015. The EU target is a ratio of no more than 60 percent, so on that score, there's some way to go.
Should be doing better
Vice Chancellor Gabriel isn't unhappy with Germany's economic outlook, but nor is he entirely happy with it.
"In view of the good general conditions such as the low oil price and favorable exchange rate, economic dynamism should really be above the present economic growth rate of 1.7 percent," Gabriel told the "Rheinische Post" newspaper.
He said Germany should do more to promote electric cars and facilitate private investment. He emphasized that he'd like to see major infrastructure investments, particularly in broadband networks, and that he didn't see Finance Minister Wolfgang Schäuble's cherished "Black Zero," or balanced government budget, as a dogma. In Gabriel's view, the balanced-budget objective shouldn't stand in the way of necessary investments in infrastructure needed to prepare for the future.
Uncertain economic impact of refugees
Wednesday's report took the view that the recent influx of refugees in Germany will help boost domestic demand and hence will be good for short-run GDP growth. Whether or not the refugees prove a benefit to the economy in the longer term remains contentious, with different economists taking divergent views.
Last month, Germany's central bank, the Bundesbank, said many of the new arrivals would initially find it difficult to get jobs, because on average they are young and poorly qualified. However, a survey of German small and medium enterprises showed that managers of more than half of companies believe the mass influx could help alleviate bottlenecks in the country's skilled labor pool, and most said they were willing in principle to hire refugees.
nz/uhe (Reuters, AFP)